Apple's mobile suite of iLife apps is now complete. On Wednesday, the company rolled out iPhoto for iOS, which joins mobile versions of GarageBand and iMovie in the App Store.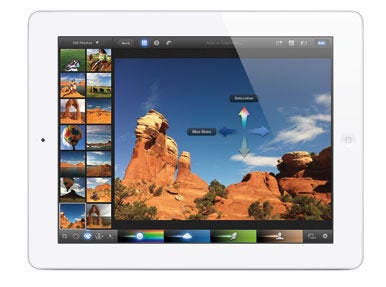 The $5 app arrives on the App Store Wednesday. While Apple executives demonstrated the mobile image editor to show off the improved display on the latest iPad, iPhoto is a universal iOS app—like GarageBand and iMovie, it will run on the iPhone as well as Apple's tablet.
During Wednesday's press event, Apple senior vice president of worldwide product marketing Phil Schiller pitched iPhoto as the next step after the Camera and Photos apps that come included with the iPad. While those offerings let you capture and view photos, respectively, the mobile version of iPhoto offers more browsing and editing capabilities.
Gesture-based controls
In iPhoto for iOS, all the photos stored on your device show up on shelves. Images are sorted by Albums, Photos, Events, and a mobile-specific featured called Journals. (More on that below.) The image editor relies heavily on gestures: You've got a scrollable thumbnail grid in both portrait and landscape views for sorting through pictures. Tapping on a photo brings up the editing interface, and pressing and holding can summon up photos for side-by-side comparisons. Double-tapping thumbnails finds similar photos. You can swipe down to make an image disappear from the side-by-side comparison.
"With iPhoto for iOS, we had the opportunity to reinvent it and take advantage of multitouch and take it to a whole new level," said Randy Ubillos, Apple's chief architect, photo & video applications, during the iPhoto demo at Wednesday's press event.
Editing tools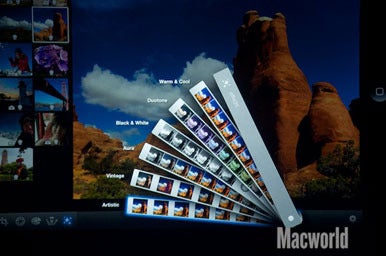 Multi-touch controls also drive the app's editing capabilities. The crop tool, for example, lets you pinch to zoom or rotate an image with your finger; you grab the corner to change the cropping or tap on a gear to bring up a list of common image sizes.
An exposure tool lets you adjust shadow, highlights, brightness, and contrast of images—once again, by touch. Tapping a specific area brings up a control panel, allowing you to adjust levels with a slider.
iPhoto for iOS also sports dozens of effects to give images a specific look. Effects include black-and-white, vintage, aura, gradient, tilt shift, and water color. The app uses a swatch book that fans out to show you the effects, with variations appearing as you slide your finger along a specific effect's strip in the swatch book.
Brush tools apply finishing touches to images in iPhoto. You can take care of blemishes with a Repair brush or remove red eye from photos of your friends and family members with a dedicated brush for that action. Other brushes let you saturate or desaturate, lighten or darken, and sharpen or soften photos.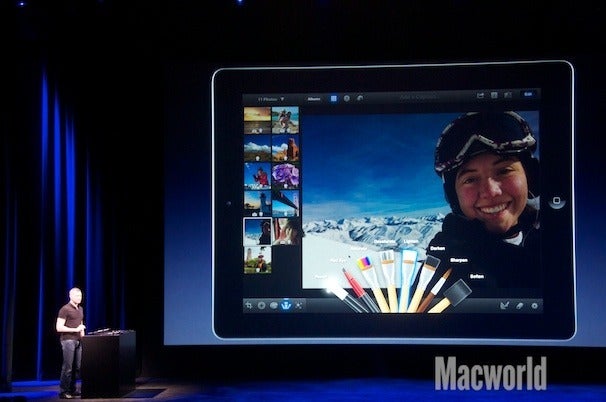 Sharing photos
On the sharing front, iPhoto is able to post images to Facebook, Flickr, and Twitter. But Apple also introduces its own methods for sharing images with others. A Photo Beaming feature will allow iPhoto users to send high-resolution photos between devices; the app also supports AirPlay mirroring to allow supported devices to stream photos and slideshows to an Apple TV. A Photo Journals feature takes a selected group of photos and automatically creates a journal out of them. Users can make adjustments to how photos are sized and placed. You'll be able to share journals on your iOS device or publish them to a Web page via iCloud.
Other updates
The App Store page for iPhoto says the app will run on the iPhone 4 and 4S as well as the iPad 2; it will also work with the latest iPad when that tablet ships March 16. Older iPhones and the original iPad aren't compatible with iPhoto for iOS; neither is any version iPod touch, including those equipped with cameras.
In addition to releasing iPhoto for iPad, Apple also updated GarageBand and iMovie for iOS on Wednesday.
The desktop version of iPhoto got its own update on Wednesday. iPhoto 9.2.2 simply allows you to delete photos from the Photo Stream. The update was appearing in OS X's Software Update feature, though it wasn't available from Apple's downloads page as this article was published.
We'll have a detailed review of iPhoto later this week.
Updated at 1 p.m. PT with more details on iPhoto's features. Updated at 1:25 p.m. to clarify information about iPhoto for iOS compatibility and to mention iPhoto 9.2.2.