Apple delivered a performance breakthrough Wednesday with its new A5X processor for the iPad, but it's possible that this chip won't make its way into the next iPhone, analysts say.
The chips used in the first two iPads, the A4 and A5, both made their way into a new iPhone soon after. But the A5X, with its heavy focus on graphics, may not be ideal for smartphone use, and Apple may wait for a more power-efficient chip built with a new manufacturing process.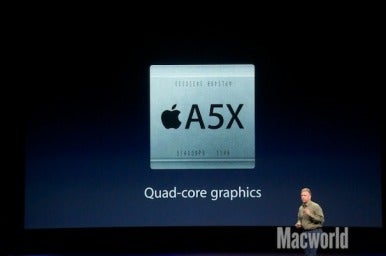 The A5X has two CPU cores, just like the A5, and it was the superior graphics performance of the A5X that Apple played up at its launch event for the new iPad in San Francisco. The new chip has four graphics cores, which should boost multimedia performance and allow for smooth operation of the iPad's higher-resolution, 2048-by-1536-pixel display.
Apple may have purpose-built the A5X specifically for the new iPad's improved screen, said Linley Gwennap, founder and principal analyst of The Linley Group, who emphasized he was still sorting through the information about the new chip Wednesday.
"I think that this new chip is probably just for the iPad," Gwennap said. "It looks like they planned ahead for this."
If Apple releases a new iPhone later this year, which seems likely, it may opt to boost battery life rather than graphics, Gwennap said. In that case, it may wait for a chip manufactured on a 28-nanometer manufacturing process, which should make the chip more power-efficient and cheaper to produce, he said.
Apple may have been in a hurry to release the iPad and moved ahead with the A5X because it didn't want to wait for a 28-nm part, Gwennap said. The number refers to the size of the smallest circuits etched onto the chip.
However, the A5X could be suitable for other devices with slightly larger screens than the iPhone, Gwennap said. It could be used in a smaller version of the iPad, for example. It could also be suitable for a video streaming device like Apple TV. Apple announced a new version of the Apple TV on Wednesday, but it has a single-core A5 chip.
Dean McCarron, principal analyst at Mercury Research, also sees the current A5X as an unlikely candidate for the next iPhone, which won't require as much graphics processing power as an iPad. The current iPhone has a display density of 326 pixels per inch, greater than the latest iPad's 264 pixels per inch, but the iPhone has only a 3.7-inch display.
"There's no technical reason to make the iPhone display better," McCarron said.
Like Apple's A4 and A5 chips, A5X is based on an ARM processor core, the same type found in most other smartphones. Many current ARM-based chips are manufactured with a 40-nanometer process, but a shift to 28 nanometers is expected later this year. The latest chips are based on ARM's Cortex-A9 design; the first chips based on a faster and more power-efficient Cortex-A15 core are also due later this year.
Apple could take one of several approaches with the next iPhone, McCarron said, including using either the A5 or A5X design and having the chip made on the more power-efficient 28-nm process.
"For phones in particular … there's a lot of incentive to use the latest process," he said.
Ahead of Wednesday's announcement, there was speculation that Apple might use a quad-core processor in its new tablet. But the decision to stick with a dual-core chip was a sound one, analysts said. There are questions about whether current software is ready to take advantage of four cores, and chip makers including Texas Instruments have stuck with dual-core ARM processors for now for that reason.
Most of the existing software for Apple devices wasn't designed for a four-core CPU, so going with a dual-core chip made sense, McCarron said. By comparison, graphics performance scales fairly well across more cores and is quite well-abstracted by operating systems.
Updated at 7:40 a.m. PT to include video of the iPad unveiling.