Wow.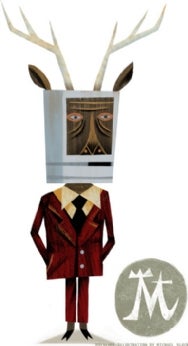 Just…
Wow.
It seems like it was only Thursday when the Macalope was swearing off linking to the ridiculous pieces that have been barfed onto the Internet like the result of a college rush party. Which, in fact it was.
But just when the Macalope tries to get out of responding to this claptrap… they pull him back in.
First, an apology. The Macalope likes to give a tip o' the antlers to people who send him this crap, but this time there were so many different articles being sent by multiple people it was impossible to keep track.
Where to even begin? How about in the eighth circle of hell?
"New Apple iPad does little to fend off rivals' advance"
As Apple chief executive Tim Cook wrapped up his first major product unveiling event since the death of his company's iconic co-founder Steve Jobs last fall, perhaps no one was as excited about what he had to say as Apple's competitors.
Well, if that's true, then that's delightfully hilarious because it means that they're even more clueless than they seem. The Macalope didn't think that was possible with such enormous clown shoes, but the Financial Post's Matt Hartley says otherwise. Good to know!
For Apple's rivals, most notably Google Inc. and Microsoft Corp., the incremental improvements in the latest iPad may be just the opportunity they need to establish themselves as legitimate competitors to the world's most valuable company.
The incremental improvements made in the iPad 2 weren't incremental enough, but these incremental improvements (which are actually larger) might be incremental enough to, man, I have no idea what I'm talking about!
But will that be enough to cause Apple fans to line up outside the company's retail stores on launch day next Friday (March 16)?
Remember, only "Apple fans" buy iPads. Other tablets are bought by regular people.
It now appears that Apple's move from second to third generation iPad is even less of a bold leap forward and more of a tepid shuffle from an underwhelming top dog.
Translation: I like specs! They're easy to write up!
In the fourth quarter of 2011, despite selling more iPads than in any other quarter to date, Apple saw its share of the global tablet market fall to 57.6%, down from 68.2% at the end of 2010, according to data from market research firm Strategy Analytics.
And market share is the only thing that matters.
Investors appeared to be disappointed by the announcement, with Apple stock falling more than 2% from US$535.11 per share at 1 p.m. ET (just before the announcement) to US$524.24 by 3:15 p.m. ET (about an hour after the unveiling) before recovering to close the trading day at US$530.69, marginally higher than its opening price Wednesday morning.
Investors were so disappointed that Apple shares were up for the day.
Apparently Hartley believes that only disappointment in the new iPad could have dragged Apple's shares down, but what caused Apple's share to go up are outside forces such as tides and the position of Jupiter.
As antler-bangingly bad as Hartley's piece is, it's not even the worst. No, the worst piece of coverage of the Apple event was clearly keyed by Jolie O'Dell at VentureBeat.
"Apple's press conference showed a brand unraveling"
What evidence does O'Dell present to support this seriously late entry into the Hanna-Barbera Laff-A-Lympics, which hasn't been produced since the 1970s?
This wasn't anything major, just a few minor but glaring inconsistencies: Tim Cook going for the "rumpled executive" look in an untucked shirt, the ambiguous naming of the "new iPad," (not iPad 3 or iPad HD), the use of a truly horrible pun on a new product's landing page, and finally, the tie-dyed Apple logo at the presentation's conclusion.
Oh, it's not much right now, but mark O'Dell's words! These are the first cracks in Apple's foundation that will lead directly to its downfall! Two years from now we Apple enthusiasts will be crying "IF ONLY TIM HAD TUCKED IN HIS SHIRT BACK IN 2012!"
This, folks, is your modern online technology coverage.
Tim Berners-Lee is spinning in his grave at what they've done with the medium he helped invent.
And he's not even close to dead.
[Editors' Note: In addition to being a mythical beast, the Macalope is not an employee of Macworld. As a result, the Macalope is always free to criticize any media organization. Even ours.]