RSSRadio, a $2 universal podcast app from Dorada Software is a competent app that lets you find and listen to podcasts on your iPhone or iPad, but it doesn't wow you the way some of its competitors do.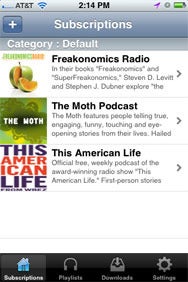 It's mostly easy to find podcasts with RSSRadio. The search engine doesn't seem quite as capable as on competing apps—I couldn't find a podcast that I co-produce, and which I've found using the search function in other podcasting apps. But I entered a URL for it, and the app was able to subscribe to the podcast right away. You can create playlists, and listen to playback at up to twice the recorded speed. You can even organize your podcast library by creating your own categories. (A "lite" version of the app lets you have just three podcast subscriptions, and is ad-supported.)
But RSSRadio falls short in other ways. The user interface is functional, but bare-bones and unattractive. While RSSRadio is a universal app, optimized for both the iPhone and iPad, it seems to have trouble syncing subscriptions between devices—this despite a recent update aimed in part at fixing the app's iCloud problems.
There's nothing wrong with RSSRadio—especially if you listen to podcasts only on one device. But it's difficult to justify spending $2 on this app when the same money will get you other apps with similar features that work as advertised.
[Joel Mathis is a freelance journalist and political columnist for Scripps Howard News Service. He lives in Philadelphia.]
How does RSSRadio measure up with other podcasting apps? We compare nine iOS podcast managers.