Instacast, a $2 iPhone podcast app from Vemedio, differs from its competitors mainly in the amount of emphasis it puts on video. It's not impossible to subscribe to such offerings in other podcasting apps, but Instacast makes a point of prominently including a video icon in its Add a Podcast directory.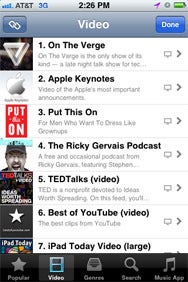 Like other top-notch podcasting apps suc as Downcast and iCatcher, Instacast allows you to enjoy Radiolab or old episodes of All Songs Considered on multiple devices—iCloud will sync video and audio podcasts subscriptions between your iPhone to your iPad. It will also sync if you're running its sister app, Instacast HD, on your iPad. (Both apps stream video to Apple TV via AirPlay.)
Aside from video, Instacast distinguishes itself with one other feature: Unlike many of its competitors, the app also plays podcasts that already are in your iPhone's iTunes library; that library is available by clicking on Instacast's "Music App" icon, and it eases the task of listening to all your podcasts in a single app.
Instacast is a good app. Whether you want to buy it will depend greatly on your desire to watch video podcasts.
[Joel Mathis is a freelance journalist and political columnist for Scripps Howard News Service. He lives in Philadelphia.]
How does Instacast measure up with other podcasting apps? We compare nine iOS podcast managers.