Apple's latest iPad may not sport a distinctive new name, but there are some changes to the available data plans you should be aware of, if you're mulling the purchase of a tablet that can connect to a cellular network.
As has been the case since the iPad's 2010 debut, Apple's tablet features two versions for each of its three capacities—one with built-in Wi-Fi connectivity and the other that also gives you the option to connect with a cellular network. This time around, cellular customers will be able to satiate their need for speed: In addition to 3G compatibility, cellular models of the new iPad also include the ability to connect to faster 4G/LTE networks.
The networking speed may be faster, but the players remain the same. You still have a choice between AT&T and Verizon for your 4G-enabled iPad. (Sprint, which provides network service for the iPhone 4 and 4S, remains out of the iPad business.) And choose you must—an iPad with a cellular connection will either work on AT&T's network or Verizon's, but not both. That means you'll have to figure out which carrier to commit to at the time you buy your iPad. You won't need to sign up for a data plan at that time, though—those remain a month-by-month, no-contract commitment with the new iPad. You do need to pay extra for having the luxury of an LTE-capable iPad; those models cost $130 than their Wi-Fi-only siblings. (For example, a 16GB iPad would cost $499 with just a Wi-Fi only connection; with Wi-Fi plus cellular capabilities, it sells for $629.)
( Canadian customers have the option of choosing iPad data plans from Rogers, Bell, and Telus—but none provides direct service in the U.S., and the latter two companies charge a $3-per-MB roaming fee for data service south of the border, meaning American buyers will want to stick to the domestic providers.)
Pricing compared
The first factor you'll want to consider when trying to decide which carrier to choose is how much a data plan will set you back each month. Let's start with AT&T, as the carrier's data plan has changed a bit since the launch of the iPad 2 last year, when the carrier offered just two options. You now get three choices : A $15-per-month 250MB plan, a $30-per-month 3GB plan, and a $50-per-month 5GB option. (Previously, AT&T capped its data offerings at 2GB per month; that changed as part of an overhaul of all AT&T data plans earlier this year.)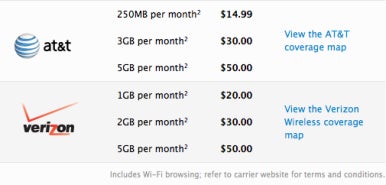 Verizon's pricing structure is unchanged since last year's launch. You can opt for 1GB a month for $20; 2GB for $30, or 5GB for $50. Note that Verizon's website doesn't mention the 1GB/$20 option, though it is available on Apple's site. Verizon's site does, however, list a 10GB plan that costs $80 a month.
Worried that you might go over whatever limit you pick? Both Verizon and AT&T charge $10 per GB once you exceed the cap on your data plan.
Looking at the raw numbers, AT&T looks like a good option for iPad users who see themselves accessing very little data over a cellular connection with the 250MB plan, though just $5 more per month gets you extra 750MB of data from Verizon. What's more, Verizon will allow you to tether other devices to your iPad, giving laptops and cellphones network access. AT&T will not, at least not at launch. If tethering is a must-have feature for you right now, Verizon is the better bet.
Coverage compared
Of course, paying for extra data is pointless if you're not in range of a cellular tower to pick up the wireless signal. AT&T's data map shows that there are gaps in the company's coverage, mostly west of the Rockies. Verizon's map shows similar gaps, but also some blank spots in Texas, Illinois, and the upper-Midwest. Of course, if you or someone you know already uses an iPhone (or another mobile phone) with the carrier you're considering, you can use their service quality as a basic guide; if a Verizon phone can successfully make calls and consume data where you live, a Verizon iPad should be able to do so, too.
One other factor to consider: While AT&T and Verizon are using the same 4G technology—LTE— the two carriers use different frequency bands. The Verizon version can fall back to either CDMA in the U.S. or GSM if you're traveling internationally. AT&T falls back only to GSM. Remember, however, that international data plans aren't cheap, so using your Verizon or AT&T iPad during your European vacation will cost you a pretty Euro.
What about Wi-Fi
All this AT&T-versus-Verizon discussion presupposes you're committed to getting an iPad that can connect to a cellular network. For some users, a Wi-Fi-only iPad may be the better choice. If you plan on using your iPad largely at home or know that you'll be restricting your travels to areas with available Wi-Fi hotspots, you could forego the cellular connectivity feature and save yourself $130.
If you plan to use your iPad mostly as a laptop replacement, it may be easier to forego the LTE-equipped option: Your laptop doesn't have a built-in cellular option; you likely use it mostly when there's Wi-Fi available, and carry on when there are no wireless networks available.
Because you can't add a cellular connection later, however, it's a decision that you need to make up front. And for some users—particularly those who plan on making their iPad a truly mobile device—the extra $130 may well be worth the price of keeping options open, especially since cellular contracts with the iPad don't require the same two-year commitment that an iPhone does; you pay month to month and can cancel and restart your plans as needed.
A Wi-Fi-only iPad can never use a cellular connection, but an iPad with LTE/3G can of course work as a Wi-Fi-only iPad from day one. If you know that you can easily make do without the cellular connection, save the $130. But if you want to future-proof your new tablet as much as possible, you may be better served by picking up an LTE-capable iPad instead.
Apple The new iPad Tablet Computer
iPad with Wi-Fi + 4G 64GB (Third-generation)
Apple The new iPad Tablet Computer