On Wednesday, Apple introduced a new version—the third generation—of its Apple TV media player, adding support for 1080p video and debuting a major update to the device's user interface with a number of new software features. But just as welcome to many Apple TV fans was the announcement that all of the software improvements in the new model are also available immediately to the previous model via Apple TV Software Update 5.0. Which means that if you have a second-generation Apple TV, even though you won't be able play 1080p video, you'll gain the rest of the new features of the latest model without spending a cent. (Your Apple TV should notify you that the update is available; if not, you can navigate to Settings: General -> Check For Updates.)
We'll have a full review of the third-generation Apple TV once we get our hands on one, but here's a quick look at what the new Apple TV software brings.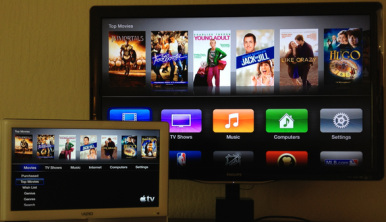 Interface overhaul
The first time you start up an Apple TV running Software Update 5.0, it's obvious that Apple has revamped the user interface considerably. There's still a row of images across the top of the screen, representing whatever content you've selected below, but the previous drop-down, textual menus—Movies, TV Shows, Music, Internet, Computers, and Settings—have been replaced by large, iOS-app-like icons, one for each content source: Here in the U.S., those are Movies, TV Shows, Music, Computers, Netflix, NBA, NHL, Trailers, MLB.TV, WSJ Live, YouTube, Vimeo, Podcasts, Radio, Photo Stream, MobileMe, and Flickr. There's also a Settings icon.
You navigate these icons, using the Apple Remote or Remote iOS app, just as you did the previous menus, using the arrow buttons (on the Apple Remote) or swiping your iOS device's screen (using the app) to move the selection up, down, left, or right, and then pressing Select (on the Apple Remote) or tapping the screen (using the app) to open the selected item. Pressing Menu takes you back up a level or, in some screens, brings up the poster/cover row at the top of the screen. (For the latter, another press of Menu takes you up a level in the menus.)
You'll find all the same options and sub-menus as in Apple TV 4.4.4 (the last software update prior to Wednesday), but most things are easier to access. For example, instead of having to navigate to the Internet menu to access Netflix, NBA, NHL, WSJ Live, YouTube, Vimeo, Podcasts, Photo Stream, MobileMe, Flickr, or Radio, each of those items is accessible with a single click from the home screen. Similarly, whereas movie trailers were buried at the bottom of the Movies menu, there's now a big Trailers button—that looks exactly like Apple's Trailers app for iOS—right on the home screen.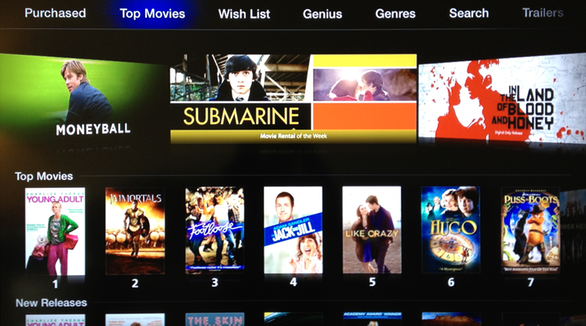 For most of these content channels—sorry, Roku, it's the best word here—the experience is similar, if not exactly the same, as it was under Apple TV 4.4.4. However, the Movies and TV Shows items have each lost their home-screen menu of options, with each menu item leading to a different screen. Instead, each of these two channels has combined its various screens into a single one, with the menu of options—Purchased, Top, Wish List, Genius, Genres, Networks (for TV shows), and Search—across the top of the screen. This makes it easier to switch between options, as you no longer have to back out of, say, the Top Movies screen to get to the Search screen; instead, you just scroll to the top of the screen and select Search. Selecting an item from this horizontal menu, or scrolling down the Movies or TV Shows screen, hides the menu; pressing Menu or scrolling back to the top of the screen displays it again.
The new interface is already inspiring debate among users—I've seen plenty of online praise and complaints. But overall, I think it's an improvement, as it makes particular content easier to find—you don't have to remember which top-level menu hosts the content you want to access—and it makes previously buried content more discoverable. (Didn't realize the Wall Street Journal has its own video channel on the Apple TV? Now you can't miss it. And my family loves that Radio is now a top-level item.) And when viewing the home screen, a down-arrow press hides the poster row to show just the 18 content icons. In fact, my biggest complaint is that whenever you return to the home screen, the poster/image area at the top of the screen is visible. I'd prefer to always see the all-icon view.
I also find that the new interface makes using the Apple Remote—one of the Apple TV's biggest weaknesses—a slightly better experience, thanks to the large icons and reduced menu navigation. And a change that appeared in a previous version of the Apple TV software is just as useful now: Pressing and holding the Menu button at any time takes you all the way back to the home (top-level) screen, saving you from having to press Menu, Menu, Menu, Menu when you're deep in a particular menu branch.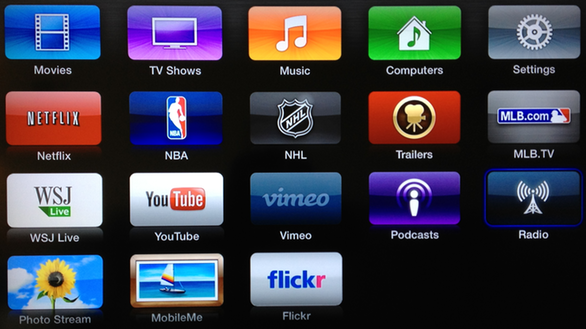 Opening the door?
Of course, one look at the new iOS-home-screen-like layout, and your mind starts imagining other icons—like, say, one for Hulu, and another for HBO—filling up spaces in the grid. Indeed, this new UI seems to me like an obvious first step towards allowing content-provider-specific apps, as well as perhaps other types of apps.
That said, the new home screen already feels a bit crowded, and if Apple does eventually allow additional content sources or apps, it's only going to get more cramped. The company will eventually have to let users manage those sources and apps—which ones appear, which are hidden, and how they're arranged—the way Roku did when it introduced channels to its media players. Otherwise, you'll end up navigating endless screens of icons. (Wait, this is starting to sound familiar…)
Movies in the cloud, account setup improvements
One new addition to the Movies menu is a Purchased option. This option debuted on Wednesday for both Apple TV 5.0 and 4.4.4, and it provides quick access to a list of movies you've purchased, letting you stream previously purchased movies directly over the Internet, rather than requiring you to stream those movies from a computer on your local network running iTunes. You can also now purchase movies directly from your Apple TV. (These features have been around for TV shows and music for a while.) One hitch here is that movies from Fox and Universal aren't currently eligible.
Another new feature relating to online accounts is that you can now sign up for an account for some third-party content providers—such as Netflix—directly from the Apple TV, and pay for those subscriptions using your Apple ID (iTunes account). For those setting up a new account for use primarily with the Apple TV, this is likely more convenient than having to use your computer and the provider's own setup and billing system.
Other changes
Going through the Apple TV Software Update with a fine-toothed comb, there are a few other changes and improvements that aren't immediately obvious. Here's a quick list:
Music: When browsing your iTunes Match music, you now get options for Genius Playlists and Genius Mixes. These were previously options only when streaming music from a computer on your local network. (These iTunes Match options came to iOS devices with the iOS 5.1 update.)
Photo Stream: You can now delete photos from Photo Stream.
Settings -> General -> iTunes Store has been moved to Settings -> iTunes Store, reflecting the increasing emphasis Apple is placing on a direct connection to the iTunes Store, rather than connecting to iTunes on a computer.
The options in Settings -> iTunes Store -> Video Resolution, which determines what the Apple TV downloads when you purchase or rent video, have changed from Standard Definition/HD to Standard Definition/720p HD/1080p HD (although 1080p HD will appear only on third-generation Apple TVs).
Under Settings -> General -> Language, there are now 13 additional languages.
A new Settings -> General -> Troubleshooting option displays a few suggestions for troubleshooting problems, including checking your network connection, making sure you're in range of your Wi-Fi base station, restarting the Apple TV, and reducing your video resolution if your Internet connection is slow.
A new Settings -> General -> Restart option—a welcome addition—means you no longer have to unplug your Apple TV, or remember a special Apple Remote button combination, to restart it.
Under Settings -> Screen Saver -> Photos, there's a new National Geographic set of nature photos.
Note that although Apple lists Genius recommendations for movies and TV shows—based only on previous iTunes rentals and purchases—as a new feature in Apple TV software 5.0, that feature actually appeared under Apple TV software 4 back in February. Similarly, although Apple noted during Wednesday's event that Photo Stream photos are automatically pushed to the Apple TV, that feature debuted with iCloud, not with Apple TV 5.0. Finally, a number of other interface changes, such as those to the Netflix channel and movie-trailers screen, are handled on the server side and are thus being pushed out to both the previous and new Apple TV software versions.
Stay tuned for our full review of the new Apple TV hardware.