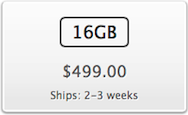 If early enthusiasm is any guide, customers are eager to get their multitouching hands on Apple's new iPad. Though the new iPad is due in Apple Stores on March 16, and should arrive at the homes of the earliest pre-order customers on that day too, Apple's website now shows shipping delays of two to three weeks for new orders.
In a statement provided to Macworld, Apple said:
Customer response to the new iPad has been off the charts and the quantity available for pre-order has been purchased, customers can continue to order online and receive an estimated delivery date. Beginning Friday, March 16 the new iPad will be available for purchase at Apple's retail stores and select Apple Authorized Resellers on a first come, first-served basis.
The new iPad starts at $499 for the 16GB model, and is available in both black and white. iPads with LTE and 3G cellular options start at $629, and are available with either AT&T or Verizon service. Among the device's new features are a Retina display, voice dictation support, a much-improved rear-facing camera, and a speedier A5X processor.
Such early iPad sellouts and steadily increasing shipping estimates are nothing new to Apple or its customers. Apple started accepting pre-orders for the iPad 2 on Friday March 11 of 2011; slipping times shipped to two to three weeks on that same day and they slipped further still—to four to five weeks—just four days later.
That previous model of the iPad is still on sale alongside its new and improved version, starting at $399, but it's not in quite as hot demand as the new iPad—Apple's store still quotes shipping times of one to three business days.