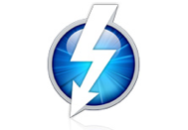 Optical cables for Thunderbolt ports that enable faster data transfers over longer distances on computers such as Apple's Macintosh will be available later this year, Intel said Monday.
Thunderbolt, introduced just over a year ago, is a high-speed connector technology that shuttles data among computers and with peripherals. Current Thunderbolt installations are based on copper, but optical cables could provide more bandwidth and longer cable runs in the future, according to Dave Salvator, an Intel spokesman.
Thunderbolt was co-developed by Apple and Intel and is considered a faster alternative to USB 3.0, with transfer speeds of up to 10 Gbps (gigabits per second). A full-length, high-definition movie can be transferred from an external storage device to a laptop in less than 30 seconds.
The technology was introduced in 2009 with the promise of using pulses of light to transfer data. But because of the prohibitive cost of fiber optics, the first Thunderbolt installs on Apple's Macintosh computers last year came with copper cables. PC makers like Lenovo are due to offer Thunderbolt ports in Windows laptops later this year.
Intel has said copper cables are adequate for data transfers over short distances of up to six meters. Optical cables will be good for data transfers over longer distances of tens of meters.
The upside to optical is that it allows for longer cable runs, and as the technology develops, more bandwidth, Salvator said in email. But when connected via optical cables, devices that need power also require their own power supply. Running power over longer optical cable runs may not be practical due to impedance-induced power drop.
Copper has the advantage of providing up to 10 watts of power, which saves a device from requiring a power outlet, Salvator said.
Intel did not provide a specific time frame on when optical cables will become available. The company also declined to provide guidance on pricing.
Existing Thunderbolt ports on Apple's Mac computers will be compatible with the upcoming optical cables. Users will be able to buy existing products and switch from copper to optical without changes in computers. Circuitry ensures that the Thunderbolt cables are transparent to copper or fiber optics connections.
Intel's aim with Thunderbolt is to cut the number of ports and unite all data-transfer, networking and display protocols through a single connector. Thunderbolt supports protocols including DisplayPort for displays and PCI-Express 2.0 for peripherals like external storage devices. Thunderbolt devices share a common connector, and devices can be can daisy-chained one after another by electrical or optical cables.
Thunderbolt is still niche technology that has mostly found specific uses in areas such as storage and networking, said Jim McGregor, chief technology strategist at In-Stat.
It's good to have Thunderbolt on computers, but it won't make a difference until it reaches everyday devices such as handsets, cameras and MP3 players, McGregor said. However, device makers want to get rid of cables, and many wireless technologies are taking over in consumer electronics.
Thunderbolt could also get more expensive with optical technology, which could stymie its adoption, McGregor said. Great connector technologies such as FireWire have come but not found success.
But just over a year after its introduction, Thunderbolt is still maturing as the technology finds adoption on peripherals and computers. Intel is also taking steps to improve the technology.
Intel earlier this week said it was building support in Thunderbolt for PCI-Express 3.0 protocol, which would boost data transfer speeds. The chip maker is also developing a Thunderbolt successor based on silicon photonics that will be able to move data up to five times faster than current Thunderbolt implementations. The technology is slated to hit the market by 2015.