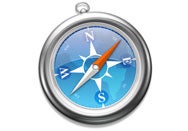 Apple on Monday released Safari 5.1.4, an update chock full of fixes for the Snow Leopard, Lion, and Windows versions of the company's Web browser.
Among the fixes packed into the update are improved JavaScript performance, better search field responsiveness, and interface fixes when viewing Flash content after zooming. Apple also claims that the update addresses a bug that could cause webpages to flash white when you switched between Safari windows—potentially losing any data you had entered into those pages.
Other problems addressed include a bug that prevented printing U.S. Postal Service shipping labels and embedded PDFs, along with a bug that could remove links in PDFs saved from webpages. An issue that could cause the screen to dim when you watched HTML5 video is corrected as well.
Rounding out the fixes are improved stability, compatibility, and startup time when using Safari extensions, better cookie behavior when you turn off Private Browsing, and a bug that left some data behind after you pressed the Remove All Website Data button.
Safari 5.1.4 is available via Software Update and directly from Apple's website.