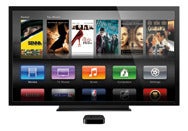 Last week Apple introduced the latest Apple TV, and if you hang with the glass-half-empty crowd, that update was an utter disappointment. No DVR capabilities. No additional content sources. And, worst of all, no Apple TV App Store. What you got instead was an unfamiliar interface, support for 1080p streaming, and a faster processor that will do heaven knows what.
To those teeth gnashers unhappy with anything other than an iPad, TiVo, Mac, and Xbox rolled into an Apple-branded HDTV, allow me to suggest that you've grabbed the wrong end of the stick. In the grand scheme of things, the Apple TV is neither source nor destination.
It's a portal.
In its current form, it's simply a way for other sources and devices to talk to your television. And it's not a new idea. Apple's AirPort Express Base Station has already tread this ground. Plug one of these babies into a power outlet and string an audio cable between it and a nearby set of powered speakers or receiver and your computer and iOS devices are in the broadcasting business. Repeat with other Express Base Stations for multiple room audio support.
The Apple TV is the next step. Like that Base Station it can be used to relay music from Point A to whatever the Apple TV is plugged into. But of course it does more. It can also help transmit to your TV the contents of your computer's iTunes library; streaming media from a variety of Internet sources including Netflix, MLB.com, and YouTube; iTunes Match content; previously purchased music, TV shows, and movies; an iCloud photo stream; and the output of a number of iOS media apps. With the release of the next version of the Mac OS X (Mountain Lion) it will also be able to wirelessly mirror your Mac's display.
This is powerful and important stuff if done properly. If the Apple TV is open to all input, the vast majority of Apple TV owners have no need for yet another App Store.
You say you want to be able to buy games for your Apple TV? Why bother when you can simply mirror your iOS device to your TV via Apple TV? Not only do you save the price of a separate app, but you immediately solve the "Okay, so what kind of controller do you expect Apple to build for your TV?" issue. You already have a touch-based controller in your hand.
Crushed that you can't surf the Web or tweet on your TV? Mirror Safari or one of the many Twitter clients from your iOS device or—with Mountain Lion—your MacBook.
Furious that Apple couldn't find a way to pack a DVR into a $99 device the size of a meatloaf sandwich with the crusts cut off? iTunes U has some informative finance and physics courses sure to help fine-tune your issues with reality.
The point being, once you see the Apple TV for what it is—an accessory rather than The Thing Itself—it makes sense in Apple's larger plan. You bring the content, we'll provide the ways to move it where you want it.
The obvious insect in this ointment is the content providers. Mirroring is a wonderful solution, but it has to be completely open. And today, it isn't.
For example, try to mirror the HBO Go or Hulu apps to your Apple TV via AirPlay. It can't be done because these apps are allowed to take advantage of a "no mirroring" switch built into the iOS. If Apple's going to succeed with a "mirroring is the answer" plan, it can't be hobbled at the whim of content providers. Word is that Mountain Lion will have no such restrictions—all mirroring all the time with no exceptions. Given that, clamping down on iOS devices seems silly. We'll keep our collective fingers crossed that Apple has had a firm sit-down with these people and indicated that the No Mirroring switch will be a thing of the past come iOS 6. At that point, HBO and Hulu executives may come to realize that mirroring to an Apple TV might increase their subscriber base.
I grant you, for many this isn't the stuff of science fiction that our imaginations demand of Apple. Some people find such evolutionary and practical solutions uninspiring. Yet, look where we've come from and where we're going. Apple has very nearly made content in the ether—the ability to grab our and other media from thin air, wherever we go—a reality.
We're staring a miracle in the face. How jaded must we be to not appreciate it?
[Christopher Breen is a senior editor for Macworld.]