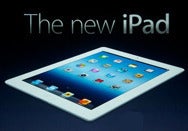 The Apple iPad is on track to drive worldwide demand for NAND flash memory in media tables at least through 2015, according to a report released today by IHS iSuppli.
In 2010, Apple surpassed HP and all other equipment manufacturers to become the world's largest consumer of semiconductor technology, largely because of the popularity of its mobile devices. That year, Apple purchased $17.5 billion worth of semiconductors compared to $9.7 billion in 2009.
Apple's recent acquisition of Israel-based solid-state drive (SSD) manufacturer Anobit Technologies will give the company a significant technological boost in the mobile market, and could yield huge cost savings.
According to IHS iSuppli, Apple's iPad in 2011 accounted for a whopping 78 percent of global gigabyte shipments of NAND flash for use in media tablets. That was down from 92 percent in 2010, when it had the market largely to itself for most of the year.
Despite an uptick by competitors this year, Apple will continue to dominate tablet NAND purchasing in 2012, with a 72 percent share of flash gigabyte shipments. By 2015, Apple will continue to account for a majority of tablet NAND purchasing, at 58 percent, according to IHS iSuppli.
Apple last week unveiled a new iPad with a higher-resolution screen and 4G LTE wireless capabilities. That model is due to arrive in retail stores on Friday, March 16, and pre-orders have already sold out .
"Apple's continued domination of the sales of NAND flash for media tablets reflects not only the iPad's commanding market share lead, but its extensive memory usage," Dee Nguyen, a memory analyst at HIS, said in a statement. "The iPad employs a larger density of NAND than its competitors. Because of this, Apple's iPad will continue to drive the growth of NAND sales in the tablet market for the next several years."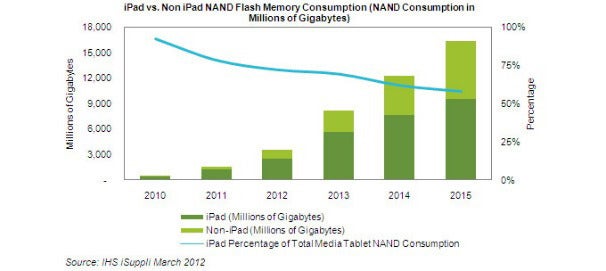 While the iPad may be leading the market for NAND consumption, its appetite for the other major type of semiconductor memory, DRAM, has been more restrained.
The first iPad used just 2Gbits of mobile DRAM. The iPad 2 doubled that to 4Gbits, still lower than most competitors devices, even smartphones. The new iPad (third generation) is expected to double the amount of DRAM use again, to 8Gbits, largely because of the higher-resolution display. By contrast, Android tablets this year will use on average 16Gbit of DRAM.
"Apple has been able to limit the amount of DRAM usage in the iPad because its iOS operating system and hardware are designed in tandem and optimized for each other," Mike Howard, an analyst for DRAM and memory at IHS, said. "Android, however, doesn't enjoy this luxury. As a result, many Android handsets and tablets shipped with 8Gbits of DRAM in 2011."
Meanwhile, by 2015, media tablets will account for 17 percent of global NAND shipments, up from 9 percent last year.
Shipments of NAND flash for all media tablets is expected to surge to 16.3 petabytes by 2015, a 10-fold jump from shipments of 1.6 petabytes in 2011.
The new iPad offers the same storage configurations as its predecessor, with 16GB, 32GB and 64GB options; Apple charges $100 for each storage increment, with pricing of $499, $599 and $699, respectively. The average NAND density of the iPad is expected to grow 9.4 percent in 2012 to 33.8GB per unit.
At the same time, demand for competing high-end media tablets has been tepid, IHS iSuppli said. Non-Apple tablets that have seen the most success have generally been lower-end models, where NAND memory densities are considerably smaller. Those tablets tend to be attractive to consumers priced out of the Apple market.
This year, the average NAND flash density in those lower-end devices will be 20.2GB, according to IHS iSuppli. That accounts for only 3.2 percent of global NAND demand.
[Lucas Mearian covers storage, disaster recovery and business continuity, financial services infrastructure and health care IT for Computerworld. Follow Lucas on Twitter at @lucasmearian or subscribe to Lucas's RSS feed. His email address is lmearian@computerworld.com.]
iPad (third generation) family
Note: When you purchase something after clicking links in our articles, we may earn a small commission. Read our affiliate link policy for more details.