So why spend $5 on Instacast HD— Vemedio's video-oriented podcasting app for the iPad—when you can save some money and spend $2 to install Instacast, its iPhone counterpart, on your tablet? A podcast is a podcast, right?
Well yes. But Instacast HD offers iPad users a bit more control over how they experience their podcasts, particularly when it comes to video. (Syncing podcast subscriptions between devices is easy, though, even if you have the basic app on your phone and the HD version on your iPad.) In Instacast HD, you have the option to control the brightness of a video, as well as the option to toggle between full-screen or wide-screen versions of what you're watching. You can also adjust the volume in HD's on-screen navigation.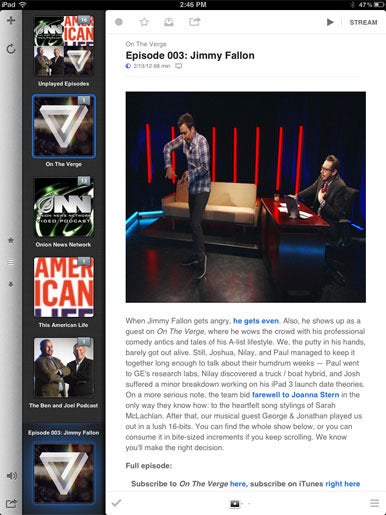 Instacast HD has one other major advantage over its iPhone/iPod touch sibling: Push notifications. Subscribe to a podcast, and the app notifies you as soon as the next episode becomes available—tap the notification the the episode automatically downloads.
One thing Instacast HD doesn't do: Offer higher-quality video. I watched the same video podcast using both apps, and the quality was indistinguishable. If fine-tuning your viewing experience is a priority, though, you'll want to pay for this app.
[Joel Mathis is a freelance journalist and political columnist for Scripps Howard News Service. He lives in Philadelphia.]
How does Instacast HD measure up with other podcasting apps? We compare nine iOS podcast managers.