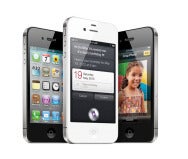 Apple's iPhone 4S does not infringe on four of Samsung Electronics' key 3G patents, a court in The Hague, Netherlands, has ruled.
Apple need not pay Samsung royalties on the patents because the patents are already covered by Samsung's licensing deal with Qualcomm, the maker of the 3G baseband chips used in the latest iPhone. This means Samsung's patent rights in the case are exhausted, the court judges ruled.
In April 2011, Samsung told Apple and Qualcomm that Apple was not covered by the license Samsung had granted Qualcomm for the patented technology. However, the Dutch court has now ruled that was not true. Qualcomm's license for Samsung's standards-essential patents contains a stipulation that it also applies to "any customer" of Qualcomm.
That license was granted in 2009 and predates the iPhone 4S. The patents in question are therefore not enforceable with regards to Apple; they are "exhausted". It is, however, unclear whether this is also true for earlier iPhones and iPads, which use baseband chips from Intel or Infineon. The Dutch court will give Apple the chance to prove this in a future session with documents from the U.S.
A ban on product sales, which Samsung has requested, is out of the question. "Samsung has no right to ban, recall or order the destruction of Apple products. This would put under undue pressure on the parties in ongoing negotiations for a license," wrote the panel of judges.
Under the patent rules associated with the UMTS 3G standard, Samsung is obliged to grant a license to Apple under "fair, reasonable and non-discriminatory" (FRAND) conditions. The court said it did not believe that Apple had behaved unreasonably in its negotiations with Samsung, and concluded there was no reason for a ban on sales.
Last October, the Hague judge reached a similar conclusion, although at that time it was not yet clear that Samsung's patents were exhausted in respect of the iPhone 4S. Meanwhile, the European Commission is conducting an investigation into possible abuse of patent rights by Samsung.