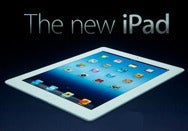 We've got just a few more hours to wait. Apple's newest iPad goes on sale Friday in the U.S.—and several other countries—and supplies figure to be snapped up fast. With Apple reporting that it's already sold out its stash of pre-order iPads, you may think you've missed your chance to join all the other early adopters in spending the weekend with your new tablet.
Fortunately, you still have some options. Here's how—and where—you can get your new iPad.
Apple Retail Stores
As with any Apple product, customers can buy the latest iPad directly from the source come launch day. Apple announced this week that the latest iPad will officially go on sale at 8 a.m. local time on Friday morning, and all Apple retail stores will open their doors at that time. Apple also says that each customer will be offered a free Personal Setup service, so your iPad will be up and running by the time you leave the store—Apple resellers (more on them in a bit) aren't likely to offer a similar service.
While there's no exact word on how many units of each iPad configuration each store will have, you'll want to get in line well before 8:00 a.m.—or maybe even late the night before. Apple fans are likely to be camping out overnight, if previous launches are any indication.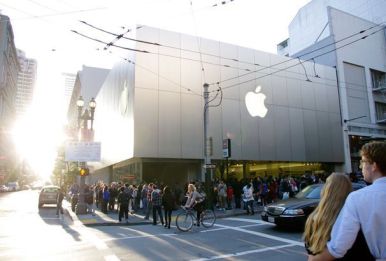 If you'd rather skip the line, you can still order your iPad online through the Apple store, but you'll have to wait a few weeks for it to arrive. Apple started taking pre-orders right after it unveiled the new iPad on March 7. iPad pre-orders sold out by the end of the weekend, just a few days later. According to Apple's online store, all models of the new iPad are currently shipping in two to three weeks. You can elect to have it shipped directly to you, or you can schedule to pick it up at a nearby Apple Store.
Apple Authorized Resellers
In addition to the Apple retail stores, several big-box retailers anticipate having the new iPad available for purchase on launch day—namely: Target, Radio Shack, Walmart, Sam's Club, and Best Buy.
Walmart will sell the new iPad; the retail giant anticipates having units storewide on Friday. After this story was first published, we heard from managers of 24-hour Walmart stores, who told Macworld that they'll begin selling the new iPad at 12:01 a.m. So get in line early—it looks like Walmart is the only reseller that will be selling the iPad before 8 a.m.
As advertised on their websites, Target and Best Buy will have the new iPad for sale storewide on Friday. Units will be sold on a first come, first serve basis, and neither store is currently taking pre-orders or reserving iPads for pickup.
RadioShack's policy for new iPad orders varies from store to store. At the time this article was published, there was no confirmation that all Radio Shack stores would have iPads on hand Friday. Larger stores are taking names for a waiting list—an employee at a store in San Francisco told me to leave my name and I'd get a call when a shipment arrived. Other stores will be taking iPad orders on Friday for in-store customers. Call your local Radio Shack on Thursday to get a sense of what their shipment is like.
Only select Sam's Clubs will have the new iPad on launch day, so check that retailer's list of confirmed recipients to see if your local Club made the cut. Sales will begin at 10 a.m. instead of 8, which means Sam's Club Business and Plus membership holders will not be able to take advantage of their early shopping benefit to score an iPad before regular members. However, you must be a Sam's Club member to shop there, and iPad sales will be limited to one unit per membership.
Mobile Carriers
If you're set on taking advantage of the new iPad's 4G capability, AT&T and Verizon will have Wi-Fi + 4G LTE-equipped models available on Friday. While there's no final word on how many units these stores will have on hand, you can order one to be delivered if you go into a store on Friday—there's a chance that could lead to a faster turnaround time than what Apple currently offers with its online orders.
iPad 2
If you're not the type to demand the latest and greatest model, you have even more options. Apple will continue to sell the much-loved iPad 2 for a discounted price through its retail stores and online. You're limited to just one capacity—16GB—in both the Wi-Fi ($399) and WiFi+3G ($529) models. (Apple also has a number of refurbished iPad 2s available, if you're not picky about having an entirely new tablet.)
Other authorized resellers have larger iPad 2 capacities in stock for a discounted price. In addition to the 16GB models, Target has the 32GB iPad 2 with Wi-Fi for $499, or Wi-Fi + 3G for $629, in select stores. The retailer is selling the 64GB version for $599 (Wi-Fi) or $729 (Wi-Fi + 3G). However, the iPad 2 is not available for online purchase, and not all Target stores carry every capacity and color.
Sam's Club has the following models at select stores:
16GB with Wi-Fi, black and white: $399
32GB with Wi-Fi, black and white: $499
32GB with Wi-Fi + 3G (Verizon and AT&T), white: $629
64GB with Wi-Fi, black only: $599
64GB with Wi-Fi + 3G (Verizon and AT&T), black: $729
Best Buy has all models of the iPad 2 available for purchase through their website—16GB with Wi-Fi for $399, or Wi-Fi + 3G for $529; 32GB with Wi-Fi for $499, or Wi-Fi + 3G for $629; 64GB with Wi-Fi for $599, or Wi-Fi plus 3G for $729.
Walmart's iPad 2 selection is a little picked over, but there are still have a few options through Walmart.com:
16GB with Wi-Fi, black and white: $399
16GB with Wi-Fi + 3G (AT&T), black: $529
32GB with Wi-Fi + 3G (AT&T), black: $629
64GB with Wi-Fi + 3G (AT&T), white: $729
Select stores still have the white 16GB iPad 2with Wi-Fi +3G and the white 64GB iPad 2 with Wi-Fi only.
Radio Shack has all models of the iPad 2 available for purchase through select stores—16GB with Wi-Fi for $399, or Wi-Fi + 3G for $529; 32GB with Wi-Fi for $499, or Wi-Fi + 3G for $629; 64GB with Wi-Fi for $599, or Wi-Fi plus 3G for $729.
[Updated at 2:45pm pacific to add information regarding Walmart's iPad release time, which changed from 8 a.m. to 12:01 a.m. after the story's original publishing time.]
iPad (third generation) family
Note: When you purchase something after clicking links in our articles, we may earn a small commission. Read our affiliate link policy for more details.