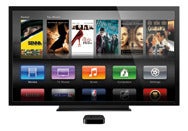 Some of those who obsessively track the delivery of their Apple products have noticed that while the third-generation iPad will, as promised, be delivered Friday (even when sitting in a delivery facility a stone's throw from their intended recipients), the latest Apple TV models are slated for delivery today.
We've heard from a handful of readers that these delivery reports are no lie. The knock on my office door just a minute ago confirms it. The FedEx fairy is indeed delivering these 1080p units.
To track the progress of your delivery, visit Apple's Online Order Status page.