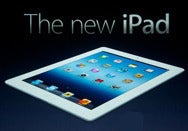 If you're just itching to get a new iPad, Walmart may be the place to be when the clock strikes midnight. The retail giant announced on Thursday that it will begin selling the new iPad at 12:01 a.m. local time on March 16—tonight. This is a full eight hours before the new iPad goes on sale at Apple retail stores and other resellers.
Managers of 24-hour Walmart stores confirmed this with Macworld, while PCMag, ZDNet, and DailyTech have reported that they received an email announcement from a Walmart representative, stating that "a limited supply of the new iPad will be available at your local 24-hour Walmart." The midnight sales are limited to the 16GB Wi-Fi only version of the new iPad, in either black or white. We are waiting to hear back from a Walmart corporate spokesperson.
It looks like Walmart is the only reseller that will be selling the iPad before 8 a.m., so get in line early. Besides the Apple store, other iPad resellers include Target, Best Buy, Sam's Club, and Radio Shack; Verizon and AT&T stores will have Wi-Fi + 4G LTE-enabled models on sale tomorrow as well. Since not all Walmart stores will release the iPad at midnight (the statement only mentions the stores that are open 24-hours), give your local Walmart a call to double-check before you make the trek.