Whenever a new iPad arrives, Gabriel Salgado isn't far behind.
"Every year that the iPad comes out, I always get the new one," the 26-year-old Penn State student said, outside the Walnut Street Apple Store in Philadelphia on Friday morning. "I always have to have the latest and greatest thing from Apple."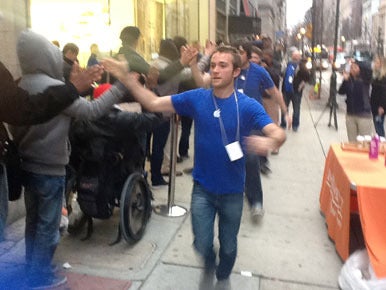 And that's why Salgado was near the front of a line of around 100 people, waiting for the Apple Store to open its doors and unleash the third-generation iPad on a waiting world. Apple Stores across the U.S. opened at 8 a.m. local time to begin selling the latest iPad, while shoppers in nine other countries—Australia, Canada, France, Germany, Hong Kong, Japan, Singapore, Switzerland, and the UK—also got their first crack at picking up the new tablet on Friday.
Though Apple gives iPad customers the chance to preorder the device and have it delivered to their homes, crowds still turn out for the release of new versions. At Apple's flagship store on New York's Fifth Avenue, Luis Zacharius, an Army sergeant, arrived at 5 a.m. to pick up his new iPad. "I've been to all the launches, and it's a great experience," Zacharius said. "I like waiting outside the store, the anticipation, meeting and talking with new people."
Further north outside the Apple Store in the Cambridgeside Galleria in Cambridge, Mass., 35-year-old psychotherapist Dan Bolton was also enjoying his in-line experience. "I thought it might be more fun to actually socialize," he said. "It's more fun to be part of the excitement."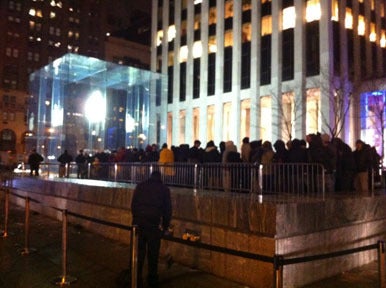 Picking up an iPad from Apple also gave shoppers the chance to take advantage of Apple's free Personal Setup service, where a store employee makes sure that the iPad is entirely set-up before the customer leaves the store. That certainly seemed to appeal to Xiang Huang, who was waiting outside the Fifth Avenue Store. "I don't know how to use a computer so I decided to wait out here," he said.
Apple's third-generation iPad is not that much of a departure from the model it replaces, the iPad 2. Apart from being slightly thicker and a little heavier, the latest iPad is nearly identical to the iPad 2. Still, the new iPad's marquee features—the sharper Retina display, a dramatically improved rear-facing camera, and 4G connectivity—clearly appealed to those waiting in lines at Apple Stores across the country.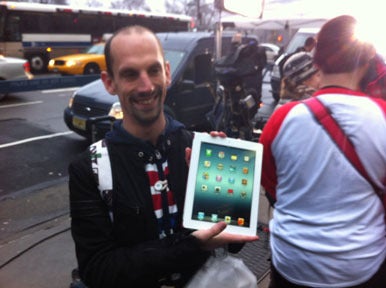 For Zacharius, the Army sergeant buying his iPad at the Fifth Avenue Apple Store, the Retina display and new 5-megapixel camera were the main reasons he decided to upgrade. "The iPad 2 had pretty sucky camera," he said emphatically.
Up in Cambridge, Bolton was also looking forward to a Retina display-equipped iPad and its 2048-by-1536-pixel resolution. "I thought I'd be missing out for the next year if I wait," he said.
A 30-year-old ad mobile ad company employee named Justin was braving the Cambridge line after pulling an all-nighter at a company-sponsored hackathon because the camera in the new tablet convinced him to upgrade from his original iPad. "Between the retina display and everything else, it was time to take the plunge," he said.
Jim Reimann, a 55-year-old health care consult who was in Cambridge on business, had hoped that the Siri voice-activated assistant feature would cross-over from the iPhone 4S to the iPad. However, the tablet's new dictation capabilities convinced him to upgrade to his third iPad in as many years.
Down in Philadelphia, Dan Novin, 31, was waiting to buy his first iPad. "Finally taking the plunge of the iPad," he said. "I waited this long, I wanted to be part of the experience of being in line."
Two factors motivated his purchase: One, Salesforce.com had just unveiled a touch site that would make the tablet useful in the field for Novin's job at a pharmaceutical research company. And Novin had realized he had increasingly abandoned his PC when Web browsing, watching videos, and reading. "95 percent of it happens on the iPhone. (The iPad's) larger screen will be a factor."
First-time iPad buyers were a common sight in the iPad queues Macworld visited on Friday. In Philadelphia, Sherri Davenport, 42, joined the line at 6 a.m., accompanied by her 12-week-old son. Davenport had recently given up her iPhone in favor of a BlackBerry—she favors keyboards over "so much touchscreen"—but decided she needed to buy her first iPad anyway.
"The new features they provided were enough for me to jump on the bandwagon," she said. "I recently changed back to BlackBerry, so I wanted to get some of the apps I had on my iPhone until recently."
In New York, a student named Raul was buying his first iPad. "I've always an Apple fan, but now that Steve Jobs has passed away, I wanted to get the full Apple experience and get the latest iPad and be immersed this completely," he said.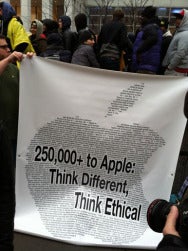 In fact, the first person in line at the Fifth Avenue Store—retired highway maintenance worker Greg Packer—was picking up his first iPad after the Retina display and performance convinced him it was the time to buy.
"The overall experience has been great," said Packer, who'd been in line since Monday and seemed to be enjoying the congratulations that came with being at the head of the line. "It's been great."
A small protest by Change.org asking Apple to use ethical manufacturing practices behind products colored the scene. The organization has been behind recent protests for Apple to address working conditions in China at factories run by companies such as Foxconn, which assembles products such as the iPad and iPhone along with devices sold by other technology companies.
"We know Apple is listening," said Jessica Morales, of Change.org. "We just want Apple to be the leader they are. We're Apple consumers ourselves, we have iPhones, iPads and MacBooks."
As East Coast iPad fans were snapping up their new tablets, shoppers in the Pacific Time Zone were still waiting for the 8 a.m. opening time in front of their local Apple Stores. In San Francisco, wet weather didn't deter the crowd of 150 people in line by 4 a.m. at the Apple Store on Stock Street.
First in line was Scott Miner, who arrived at 9:30 p.m. on Thursday. Miner, an instructor at a local community college said he uses the iPad for everything. "I got the original one, I've had it for a couple of years, figured it was time to refresh my iPad inventory."
Also near the front of the line was Shane Slack, who was in line by 2:30 a.m. on Friday. "I decided I should show up early," said Slack, adding that, originally, he didn't think he wanted the new iPad but changed his mind once he watched the video of Apple's March 8 iPad unveiling.
Slack said he didn't mind having to wait in the rain: "There were a few moments when I considered leaving but, no, it's an experience, half the fun is the experience of it."
People at the back of the line had similar sentiments. "The rain doesn't bother me one bit," said Arlene Obrentz, 80, who was in line with her 90-year-old husband, Bert. "You needed to be part of this event. Especially at our ages we have to be a part of it. People in line are delightful."
Not everyone in the crowd was local. Mats Bjornstrom flew in from Stockholm Thursday evening in order to come to the iPad launch. He got in line around 5 am and was liveblogging the experience for his company, an Apple reseller, back in Sweden. "I'm probably one of the nut cases in line," he said with a laugh.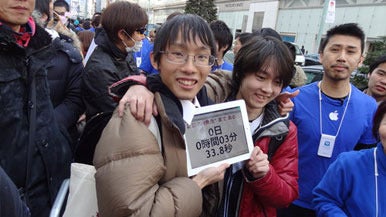 Across the globe in Japan, hundreds lined up in Tokyo—some for a day and a half—for a chance to buy the new iPad on Friday. At the company's store in the upscale Ginza shopping district, dozens of blue-shirted employees counted down the final seconds to 8 a.m. local time when sales began. A phalanx of reporters several rows deep crowded the main door as the first of over 400 shoppers streamed inside to buy the device, which is priced at ¥42,800 (US$515) for the cheapest model.
Ryo Watanabe, a 19-year-old university student, said he lined up 36 hours before the device went on sale so he could be the first to buy it at the Ginza store. He talked to reporters as he cradled his new 16GB Wi-Fi model, still in the box.
"It's not that I like Apple itself so much, it's just that Apple makes good products, so I choose them," he said.
The crowd outside the Apple Store in Ginza was in a festive mood, with people cheering as they entered the store, slapping hands with Apple staff and posing for the many photographers on hand.
"It's an Apple festival!" said a girl who stood in line for hours with a banner that read "iPad Samurai."
In France, mobile network operator Orange earlier this week promised it would begin sales of the new iPad online and at "select" stores across France. The country's most select store, on the Champs Elysées in Paris, hosted midnight launch parties and opened early to sell previous Apple devices, but on Friday morning the store was empty and the shutter still down. The only device on display in the Window was Nokia's bottom-of-the-range smartphone, the Lumia 710, while a massive in-store display visible behind a curtain still touted the iPad 2.
Things were more animated at the Apple Store near the Opera: some customers were allowed in shortly after 8 a.m., but those left waiting in line outside were almost outnumbered by journalists, security guards and a guerilla marketing team from lekiosque.fr, whose members handed out free cups of coffee while promoting an online newsstand app for the iPad.
In London, the new iPad's higher-resolution screen was the big draw.
"It is my first iPad, so I am kind of looking forward to all of it. But the display was enough to convince me to buy one," said Mike Lee, who had decided to get the 64GB Wi-Fi version after hearing that applications would be bigger because of the increased resolution.
But the improved camera and the faster processor also made the new iPad worth buying, said Amir Saeed, who had turned up at the Apple's store on Regent Street in London. Saeed didn't mind the weight increase, saying that it would help users notice that they actually had it with them.
Joel Mathis reported from Philadelphia. Eric Bruno reported from New York. Macworld contributor Jason Tocci reported from Cambridge, Mass. Serenity Caldwell and Karissa Bell contributed to this report from San Francisco.
Additional reporting from Japan by Jay Alabaster of IDG News Service. IDG News service staffers Peter Sayer in Paris, Mikael Ricknas in London, and Agam Shah and Joab Jackson in New York contributed to this story.
Updated at 9:40 a.m. PT to include reports from Paris and London as well as more details from New York. Updated at 11:58 a.m. PT with video from the San Francisco Apple Store. Updated at 1:20 p.m. PT with reports from San Francisco.
iPad (third generation) family