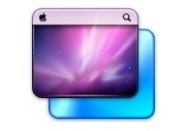 If you've been using OS X Lion, you've no doubt seen the dark linen pattern that Apple uses as a background for the login screen. That same pattern pops up in iOS 5, too. If you like that look and would like to use it as your everyday desktop background, OS X Hints reader rgetter found out how to make that so.
In the Finder, choose Go -> Go to Folder, and enter
/System/Library/Frameworks/AppKit.framework/Versions/C/Resources/
In that folder, look for the file NSTexturedFullScreenBackgroundColor.png. Copy this file (select it and press Command-C), then go to your Pictures folder and press Command-V to make a copy of it there.
Next, right-click or Control-click on the desktop and choose Change Desktop Background. In the Desktop & Screen Saver preference pane that then appears, scroll down to Pictures in the Folders list on the left, then select the linen pattern from the window on the right. Choose Tile from the menu above the image well, and your desktop should take on that cool linen look.