The second- and third-generation Apple TV were designed with simplicity in mind but they don't always work as expected. Where do you turn when your Apple TV acts up? The next several paragraphs are a good place to start. Check out our symptoms and solutions for common Apple TV issues.
When I use the Apple Remote with my Apple TV, that remote starts controlling my MacBook across the room. Is there any way to stop it from doing that?
Yes, but you have to manage it with your MacBook rather than the Apple TV. To do so, launch System Preferences on the MacBook and select the Security & Privacy (Lion) or Security (Snow Leopard) preference and click the General tab. Click the Lock icon and enter your administrator's name and password and click Unlock. At the bottom of the window enable the Disable Remote Control Infrared Receiver option.
If you have a spare remote around, you can pair it with your MacBook and it will work only with that MacBook, not the Apple TV. To do that, return to that same system preference and click the Pair button. You'll be prompted to hold the remote in from of the IR port and press and hold Menu and Next. After a few seconds a Paired icon will appear on the screen. That remote is now paired with your MacBook and capable of controlling it. At this point, only that remote will work with it.
I have a couple of Apple Remotes and I sometimes try to use the one that's not paired with the Apple TV and it doesn't work. Is there any way I can configure the Apple TV so they each work with it?
You can, but it's not entirely intuitive. Locate the Apple Remote that's currently paired with the Apple TV and do one of the following: Point the Apple Remote at the Apple TV and press and hold Menu and Previous for about six seconds. An Unpairing icon should appear on the screen. Alternatively, on the Apple TV navigate to Settings -> General -> Remotes, select Unpair Apple Remote, and press the Select button.
This would seem to make this remote unusable with the Apple TV, but that's not the case. When you pair a remote with the Apple TV what you're really doing is instructing it to ignore any other hardware remotes (it will still work with Apple's Remote app). This is why your other Apple Remote can't control it. When you unpair it, it can still control your Apple TV, but so can other remotes you use—an Apple Remote or a universal remote configured to work with it.
I'm glad that my new Apple TV can stream 1080p videos, but it takes forever for a movie to start playing. Is there anything I can do to speed it up?
Those with a broadband connection of 8 Mbps or faster will benefit most from 1080p video in that you'll be able to begin playing movies streamed from the iTunes Store to your Apple TV in fairly short order.
If you have a slower broadband connection you have a couple of options. The first is to download the movie to your Mac and, once downloaded, stream it across your local network, which is plenty fast to get the job done. This requires some planning ahead, of course, because it may take a couple of hours to download the movie.
The other option is to instruct the iTunes Store to stream a lower-quality version of the movie. To do this, on the Apple TV go to Settings -> iTunes Store and select Video Resolution. By default it will read 1080p HD. Press the remote's Select button once and that changes to 720p, which is also HD but lower quality, so it streams more quickly. If even that takes too long to stream, press Select again to choose Standard Definition.
Note that these settings apply only to content streamed from the iTunes Store and iTunes Match. They have no effect on movies and TV shows that you stream from your computer or services such as Netflix.
My Apple TV doesn't display the content in my iTunes library. What's going on?
There are a few things to check. The first is that you've switched on Home Sharing in both iTunes and on the Apple TV. To do this in iTunes choose Advanced -> Turn on Home Sharing. A Home Sharing window will appear where you must enter your Apple ID and associated password and click the Create Home Share button. Then click Done and Home Sharing will be switched on for your iTunes library.
Now move to the Apple TV. Navigate to Settings -> iTunes Store and, if your Apple ID doesn't appear next to the Apple ID entry in this screen, select Apple ID, press Select, and, as prompted, enter your user name and password. Choose the option to save your password. Now return to the home screen, and select Computers. Press the remote's Select button to view a screen where you'll be asked if you'd like to turn on Home Sharing for this Apple TV with the Apple ID you entered in the iTunes Store screen. Select Yes and press the Select button.
If you still don't see your iTunes library when you select Computers on the Apple TV, make sure that a copy of iTunes is running on your Mac. Still no go? Ensure that your Apple TV and computer are on the same local network. Still nothing? Quit and relaunch iTunes.
When I look at my Apple TV it shows only the Computers and Settings menus, none of the iTunes Store content. Why?
The Apple TV will do this when it doesn't have an Internet connection (but may have a local network connection). Go to Settings -> General -> Network. If you find multiple N/A entries on the screen this indicates that you don't have a working network connection. If you see what appear to be viable entries but still see just the Computers and Settings menus on the home screen, you need to troubleshoot your Internet connection.
Since I updated iTunes to version 10.6 my TV shows on the Apple TV no longer sort properly when I choose to view them by show. Have I done something wrong?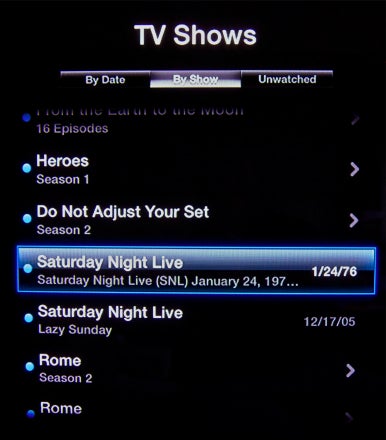 No, it's a bug in iTunes 10.6 and is a problem not only with the most recent Apple TV software, but also with previous versions. It's happening to us too and it makes sorting through a long list of TV shows difficult. We expect Apple to fix it.
My Apple TV is slow about everything and occasionally unresponsive. I'd like to switch it off and on again but there's no power button. Any way to do this short of pulling out the power cord?
With the original Apple TV that's exactly what you'd have to resort to from time to time. Now—except in cases of extreme funkiness—that's no longer necessary. Go to Settings -> General and scroll all the way to the bottom of the screen to highlight the Restart command. Press the remote's Select button and the Apple TV will restart.
If your Apple TV is so confused that you can't navigate its interface with the Apple Remote, point the remote at the Apple TV and press and hold the Menu and Down buttons for about six seconds. With luck, the Apple TV will restart.
If neither of these work, go ahead and pull the power plug.
My Apple TV is clearly unwell and restarting it doesn't help. What should I try now?
We'll start by resetting its settings. Navigate to Settings -> General and scroll down to the Reset command. Press the Select button and in the screen that appears select Reset All Settings and press Select. You'll be asked to confirm your choice. When you do the Apple TV will restart and, hopefully, look as it did when you first unpacked it. You'll need to configure it again with your Apple ID, account names and passwords for any services you use (Netflix and MLB.com, for example), and Home Sharing.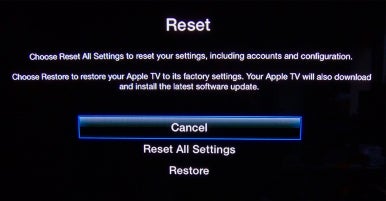 If that doesn't work the expected magic, restore it. You do this in similar fashion. Go to Settings -> General -> Reset but this time select Restore and press the Select button. Again, confirm and wait for the Apple TV to restart. When you restore, a clean version of the Apple TV OS downloads to the device. When it finishes and restarts you'll have to configure it again as you would have when erasing its settings.
But I can't restore it because it's unresponsive to the Apple Remote!
Of course you want to ensure that the problem isn't with the remote (make sure that it works with a Mac, for example). If it tests out okay, then turn to the Apple TV. Disconnect its cables and take it to your Mac.
You'll need a USB cable with a Micro-B connector on one end. (Many digital cameras ship with such cables.) Connect the tiny end of the cable to the equally tiny USB port below the HDMI port on the back of the Apple TV and plug the other end of the cable into your Mac. Plug in the Apple TV's power cable and launch iTunes. The Apple TV will appear under the Devices heading in iTunes' Source list. Select it and click on the Restore button to the right. Confirm that you want to do this by clicking the Restore and Update button that appears. Agree to the license agreement and iTunes will begin to download the Apple TV software (it's around 540MB). When it finishes downloading the software it will install it on your Apple TV.