Digital comics are about to get a whole lot better: Comixology, publishers of the most popular comics-reading app on iOS, is about to roll out a new version that enables high-resolution graphics just for the Retina display found on the new iPad.
The current version of the Comics app already looks pretty good on the new iPad, since it can take advantage of resolution that previously was only revealed when you zoomed in on a page. But the new version, which has been submitted to Apple and should be released soon, is simply mind-blowing.
I had a chance to use a pre-release copy of the update on my third-generation iPad, and the new files—which Comixology refers to as "CMX-HD" format—are spectacular. I read issue #1 of Saga, the new book from Y: The Last Man and Ex Machina author Brian K. Vaughan, in CMX-HD format. The sci-fi/fantasy/fairy-tale features some gorgeous art by Fiona Staples that looks even better in high definition. Not only are colors crisp and bright on the new Retina display, but text is razor-sharp and fine lines are visible as straight lines rather than pixelated blurs.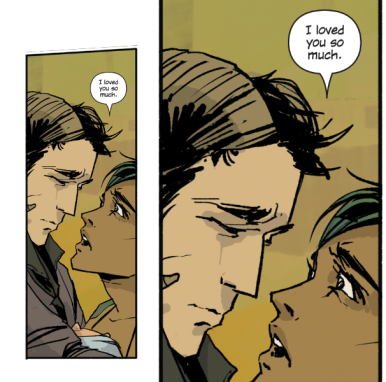 According to Comixology CEO David Steinberger, CMX-HD files—which are only downloaded if you are using the new iPad—are between two and three times the file size of regular issues. Comixology hopes to get the file sizes down further, but "image quality is of first importance," Steinberger said.
Comixology is trying to upgrade its entire catalog of comics to CMX-HD format as quickly as possible, so older comics will be upgraded in the next several months. If you own a comic that gets upgraded to CMX-HD format, you'll be prompted to re-download the comic in the higher-quality format. There's no upgrade fee, nor do HD-capable comics cost more than other comics. Steinberger estimates that 90 percent of the existing material in the Comixology library will eventually be upgraded to CMX-HD, while "nearly 100 percent" of new releases will be available in the high-resolution format.
[Jason Snell is Macworld's editorial director and a gigantic nerd.]