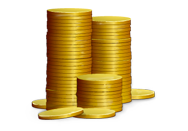 We're about to find out the answer to the age-old question "What do you do with $97 billion in cash?" Apple has scheduled a press conference for 6 a.m. PT Monday in which it will reveal its plans for its cash balance.
The conference call will feature CEO Tim Cook and chief financial officer Peter Oppenheimer. Macworld will have coverage of the conference call shortly after it begins; you can also follow our Twitter feed for announcements as they happen.
Apple's cash stockpile has been a growing source of speculation as the company's strong financial performance has helped accumulate an impressive amount of cash on hand. In January, Apple said it ended its fiscal first quarter of 2012 with $97.6 billion in cash and short-term investments.
Investors have been keen to find out what Apple plans to do with that cash, with options ranging from issuing a dividend to shareholders to making a major acquisition. Speaking at the Goldman Sachs Technology and Internet Conference in February, Cook disputed the notion that Apple has been hoarding cash—the company has spent billions on its supply chain and infrastructure while also snapping up other companies and intellectual property. But he conceded the point that Apple was bringing in more cash than it could spend.
"I think it's clear to everyone, and I'd be the first to admit, we have more cash than we need to run the business on a daily basis," Cook told investors at the Goldman Sachs conference. "And so we're actively discussing it. I only ask for a bit of patience, so that we can do this in a very deliberate way and make the best decision for the shareholders."
The time to announce the results of those deliberations appears to be Monday. In announcing the conference call, Apple said that Cook and Oppenheimer would not provide an update on the current quarter nor on any other topics outside of the company's cash holdings.