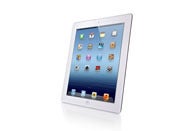 Apple's new iPad arrived Friday and will almost certainly start showing up in the workplace this week. While this month's buzz has been mainly focused on Apple's new tablet, its release was just one of several moves the company has made in the last two weeks. Consider that before the iPad even hit store shelves, Apple had pushed out iOS 5.1; unveiled an updated version of the iWork suite; rolled out a slick iOS version of iPhoto; and released the new Apple Configurator tool for managing various iOS devices in various business and education settings.
With the iPad now the de facto tablet for business and the iPhone increasingly being seen as the business choice in a post-BlackBerry world, these new offerings from Apple will affect companies of all shapes and sizes.
Here's a look at some of the cross-currents likely to play out for IT shops as new iPads show up in the hands of workers.
Business advantages of the new iPad
The new iPad's features and specs are arguably more in line with consumer use than business. The retina display and graphics performance are notable improvements, but their biggest impact will be on uses like video and gaming.
That isn't to say that business users won't see benefits. Reduced eye strain, greater readability of text and an overall improvement in graphics capabilities will benefit every iPad user in some way. But they don't offer direct business or productivity gains compared to the previous generation of iPads, except for a handful of professionals, including those in creative, design and other media jobs. The improved graphics and video capabilities may make the iPad more suited to on-the-go media work. That very point—that the iPad is indeed useful for content creation—was highlighted at last week's iPad unveiling.
The improved graphics capabilities may also bolster the use of iPads in healthcare. Although the new model's display can't yet compete with top-end radiology and medical imaging workstations, the higher resolution (2048 by 1536 pixels) may make it even more attractive to the industry. Though the resolution may be lower than a dedicated workstation, it's still more advanced than any other tablet on the market and higher than that of most notebooks, PC or Mac.
Similar advantages will play out in architecture and design. While the iPad isn't a full-fledged computer replacement in these fields, the improved display will be useful as a presentation device and will further the existing iPad's capabilities of instant collaboration during planning or design meetings.
Although the iPad isn't a dedicated videoconferencing appliance, the improved 5-megapixel rear-facing camera could be useful for those workplaces that rely on either Apple's FaceTime or multiplatform video-chat solutions. (The front-facing camera doesn't appear to have changed from the previous model.)
If there's a single feature in the new iPad that makes it a better business tool, it's the dictation capabilities Apple added to the virtual keyboard. These are the same capabilities (sans Siri) available on the iPhone 4S, and, for many users, they may prove to be a better option than using the iPad's on-screen keyboard, particularly when entering a lot of text.
New iPad or iPad 2
With Apple still selling the iPad 2 for $399, businesses now have more flexibility when purchasing iPads in quantity. In the absence of any further discounts from Apple, the $100 price difference between a new 16GB model and the 16GB iPad 2 means that a company buying five of the older models is essentially getting a sixth free (compared to buying the new iPad).
The minimal difference between the two for most business uses means iPad 2 purchases could save significant money in a number of situations: schools looking to roll out a one-iPad-per-student initiative; restaurants and retail establishments using iPads in kiosk deployments as digital menus or cash registers; and hospitality settings such as hotels, airplanes, and event venues, or even hospitals where devices are for patient use.
4G/LTE
The other big news about the new iPad is the option for 4G/LTE mobile broadband. For professionals on the go, access to LTE networks is extremely significant, particularly on Verizon, where the iOS personal hotspot feature can share the iPad's LTE connection with other devices. (AT&T will not allow this feature.)
For corporate-owned devices, this introduces the need for a new data plan or inclusion in a broader mobile calling-and-data package. For those reasons, any firms considering LTE models should discuss their options with their account managers. Given that the LTE bands in the new iPad appear to be specific to the U.S. and Canada, buying an LTE iPad for professionals that travel overseas might not be the best option. Even for workers in the U.S., it might make more sense to consider a Wi-Fi-only iPad and a separate LTE mobile hotspot. That's particularly true if you're working with AT&T and you or your employees need mobile broadband for multiple devices. For employee-owned devices, the choice of data plans and carriers is up to the individual.
Given the performance of LTE, however, the added expense might be worth it for business-owned devices and for employees who use their own iPad for work. LTE speeds can meet, and sometimes exceed, those of many public Wi-Fi networks. More importantly, public Wi-Fi networks often have limited security (if there's any security at all). LTE access used in combination with a VPN connection is better than using open public networks.
This is an area where cost-sharing between employee and employer—in this case, the data plan if not the iPad itself—should be considered. It's also a good starting point for reviewing mobile expenses and desired levels of service for data. As the transition to LTE continues, this is something that many businesses will need to tackle. Why not use the new iPad as a starting point?
The new iPad and BYOD
The new iPad by itself isn't likely to accelerate the adoption of bring-your-own-device (BYOD) and consumerization-of-IT trends in the workplace. Yes, it is another piece of consumer technology that will quickly find its way into the workplace, adding to the number of iPad users out there. But that would've happened even without a new iPad.
That said, the new iPad and the $100 price-cut on the iPad 2 are likely to have some indirect effects. The price drop could boost the iPad's market share by enticing buyers who thought the $499 price tag too steep or were considering a device like the Nook or Kindle Fire. The retina display and better graphics in the new iPad may also sway users from competing devices.
The more direct impact involves brand awareness and trust. With tens of millions of iPads already in use, their versatility and ease of use is now well-known; many users may simply feel more comfortable with the iPad compared to newer, less ubiquitous competitors. Some may even find it easier to use than with a PC or some other device. With three generations of iPads (two of them available at diverging price points), we're quickly approaching a time when it's common for households to have multiple iPads. That reinforces the comfort cycle as iPads become more integrated into daily life.
Greater market share, brand loyalty and user familiarity will allow Apple to solidify its position as the tablet leader. That should translate into a preference for the iPad over competitors in the office—whether through BYOD or outright lobbying for the iPad as a business-provided option. At this point, the management capabilities of iOS also help promote the iPad as one of the most manageable mobile devices available.
Although this may not actually boost the number of BYOD programs, it will help users grow even more comfortable in their own tech decisions—and more adept at supporting technology themselves. This self-sufficient attitude, where people essentially become their own personal CIOs or IT departments, is a key driver of the entire consumerization-of-IT movement.
The new iPad vs. Windows 8 in the workplace
If the new iPad and the now-cheaper iPad 2 help Apple consolidate its place in business, that trend couldn't come at a better time. With Windows 8 tablets on the horizon, there will eventually be a showdown between Windows 8 and iOS, both at work and among consumers.
Companies that already have a significant iPad population and the needed back-end support for them through mobile management platforms, business volume purchases of iOS apps and support processes will be less likely to jump on the Windows 8 bandwagon. The number of iPads in the workplace, whether employer- or employee-owned, at the end of 2012 is likely to determine which tablet dominates the workplace for the next few years.
It's easy to assume that Microsoft will make quick headway, but it's far too early to make an accurate call on this. This is doubly true if you consider that low-cost Windows on ARM (WOA) tablets won't come with support for enterprise management or Active Directory integration. These tablets will likely be the ones to compete with the iPad on cost and features because x86 tablets running Windows 8 and offering full Active Directory and group policy support are expected to cost significantly more.
In fact, Apple's mobile device management (MDM) framework in iOS seems likely to provide more enterprise capabilities out of the box than WOA tablets. Paired with an MDM solution, which many businesses have already adopted for iPad and iPhone users, the iPad may be a more enterprise-grade tablet than low-cost Windows alternatives. Every iPad that Apple gets into the workplace this year is a tiny bit of insurance against losing market share down the road.
AirPlay + iPad = Apple TV at work?
One of the features I highlighted when Apple unveiled OS X Mountain Lion last month was the ability to create a wireless presentation system using the Apple TV. The same thing can be done with iOS 5 on the new iPad, the iPad 2, or the iPhone 4S—all of which support wireless video mirroring of the device display to any HDTV. Older iOS devices can also wirelessly display content via an Apple TV using AirPlay, though only with apps that specifically support AirPlay and with some limitations on what can be displayed.
This makes the Apple TV, which was just updated last week, a potentially useful device for business, whether paired with an iPad, iPhone, or Mac. (You'll be able to mirror a Mac's display via AirPlay when OS X Mountain Lion ships this summer, though there are a couple of work-around apps that do so already.) Apple isn't really pushing its "hobby" device as a business solution, but the fact is that the Apple TV works great as one. And Apple's reticence to do so hasn't stopped some companies like business intelligence developer MicroStrategy from building Apple TV/AirPlay support into their products. The video on their site really drives the point home.
That said, the third-generation Apple TV doesn't offer a big leap in business potential over its predecessor. The main change is that the device, like the iPad, offers higher-resolution capabilities and can finally reach full 1080p HD output. That's more likely to be of use for home theater than in a conference room.
Apple Configurator
Apple Configurator is a new free app for Macs running Lion. It allows a single Mac to manage an unlimited number of iPads and other iOS devices (though only 30 can be connected and managed at a given time). Configurator is based on the features of the iPhone Configuration Utility, Apple's first stab at iOS device management. iPhone Configuration Utility is still available for OS X and Windows and has been updated for iOS 5.1.
Configurator has a series of features that can be useful in business environments, though many of them are also available via MDM suites that allow IT shops to automatically send configuration data over the air and monitor device use. For small businesses not interested in full-scale MDM, Apple Configurator is a good option, as it provides many of the core functions MDM is designed to address. However, it requires a more hands-on approach to managing devices, which keeps it from scaling well beyond the classroom or small office.
One area where it does beat other MDM options is in its enabling of the creation of a "lending library"-style system that allows iPads to be borrowed, used, returned and borrowed again. The backup capabilities and the inclusion of user accounts (something generally missing from iOS, which is designed for one-user-per-device) means the system always delivers a consistent experience and apps/settings/data to users, regardless of the device they use.
Overall, Apple Configurator won't replace MDM in most settings, and it certainly doesn't seem to belong in any BYOD setup. But it can be an excellent solution for classrooms and training facilities, kiosk deployments such as those in retail, and any business where iPads are provided to users on an as-needed basis. In some of these situations, the pairing of Apple Configurator with MDM software works well as part of a larger mobile management strategy.
If Apple Configurator represents anything, it shows that Apple recognizes that no two organizations will deploy, configure or manage iPads in the exact same way. Apple Configurator, along with iPhone Configuration Utility, Profile Manager in Lion Server and a boatload of mobile management suites now on the market offer a solid range of choices when it comes to implementing, supporting, and managing the iPad.
The specific features that Apple Configurator brings to the table include the ability to:
Wipe or restore devices;
Install a specific iOS release or update the existing iOS version;
Assign unique device names or identifiers (which can be based on asset management tags);
Back up devices;
Restore data from backup;
Create and apply configuration profiles;
Install apps, including internal/private apps and third-party apps from the App Store;
License third-party apps using Apple's Volume Purchase Plan (not needed for free apps);
Install documents onto the on-device storage space of installed apps;
Create user-specific configurations, based on enterprise directory systems like Active Directory if available/desired;
Backup and restore user data and configurations independently to/from any device (similar to Windows roaming profiles in Active Directory);
Organize devices into groups for easier management;
Restrict devices from syncing to other computers;
Assign lock-screen images specific to an organization or user;
Enroll devices in a third-party MDM solution.
Apple's new approach to business
While there isn't much about the new iPad itself that is a specific selling point for business, the device will end up in a lot of workplaces anyway. So will more iPad 2s and even some Apple TVs. Thanks to the work Apple has done to integrate iOS with enterprise standards—mobile management frameworks, Exchange support and VPN—and thousands of business apps, the iPad will function very well in those workplaces.
This is true even though Apple hasn't made an effort to specifically market the iPad in any of its iterations as a business device. The ease-of-use in both home and work life is how Apple became the world's most valuable tech company, and it's allowed it to play a big part in the consumerization of IT. The new iPad will certainly continue that trend.
Ryan Faas is a freelance writer and technology consultant specializing in Mac and multiplatform network issues. He has been a Computerworld columnist since 2003 and is a frequent contributor to Peachpit.com. Faas is also the author of iPhone for Work (Apress, 2009). You can find out more about him at RyanFaas.com and follow him on Twitter (@ryanfaas).
Note: When you purchase something after clicking links in our articles, we may earn a small commission. Read our affiliate link policy for more details.