At a Glance
Expert's Rating
Our Verdict
Thanks to iPads, iPhones, and ever-lighter MacBooks, we're doing more work and play while on the go than ever before. A caveat of working this way, however, is that most public Wi-Fi networks (hotspots) are anything but secure, which means they're prime targets for would-be hackers, identity thieves, and general do-no-gooders. If you're lucky, your company provides you with a virtual private network (VPN) for securing your Internet activities. But if you're like the rest of us, you need to fend for yourself if you want to hide your login credentials, email, and other sensitive activity from prying eyes. That's where Cloak comes in.
Put simply, Cloak is a VPN that just works. It encrypts all your Internet traffic so other users on the same network can't snoop over your shoulder, so to speak. But Cloak does away with the typical VPN song and dance of digging into System Preferences and filling in a bunch of cryptic server details and protocols—not to mention having to shop for and set up your own VPN service in the first place. With Cloak, you simply sign up for an account at GetCloak.com and install a little menu-bar utility.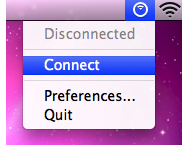 Once you've done that, the next time Cloak notices you join an unsecured network—currently defined as any network that doesn't require a password, though the company is working to broaden this rule and your control over it—the utility will leap into action and activate your VPN. Once Cloak's icon glows solid blue in your menubar—and, optionally, displays a Growl alert—you know you're connected to Cloak's network of secured servers that encrypt everything you do on the Internet. You can instead opt to manually connect and disconnect using Cloak's systemwide menu, but in my testing, the auto-connect feature works well all on its own.

For those interested in the technical details, there are of course plenty. Cloak has a technical document that explains everything, but to summarize: Cloak is based on OpenVPN, a set of open-source tools for implementing secure socket layer/transport layer security (SSL/TLS) connections. Specifically, Cloak uses TLS 1.0, a successor to SSL, and the company maintains a network of VPN servers around the world, using providers such as Amazon Web Services, Rackspace, Linode, Zerigo, and Gandi.net.
The Cloak utility is free, as is the company's universal app for iPhone and iPad. The Cloak service—which provides the actual VPN—is free for up to 1GB of data or two hours of usage (whichever comes first) per month. The company also offers unlimited-time plans for 20GB ($8) and 50GB ($15) of data per month.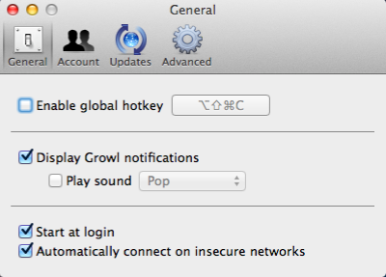 As far as Cloak's overall experience, I've been a happy user for the better part of a year. I'm the kind of person who generally has the technical skills and know-how to shop for a traditional VPN service, but I've always wanted one that employs an Apple-like philosophy of polish and simplicity. I like to think that, during one of Cloak's early meetings, someone at the company channeled Steve Jobs with a comment like, "If you see System Preferences' Network settings pane, they blew it."
While I appreciate Cloak's simplicity, I'd like to see an option in Cloak's preferences to whitelist or blacklist particular WiFi networks. I'd also like some basic help documentation or, at the very least, a link to some online information explaining what's going on and how or why to use some of the utility's settings. But if you're in the market for a no-hassle VPN service for your Mac, I highly recommend Cloak.