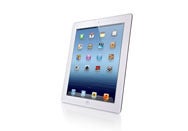 Reader Steve Stern has a new iPad and a warmer lap. He writes:
I just traded up from my iPad 2 to a new iPad (32 GB 4G model). I like it a lot but it seems to run hotter than my old iPad. Am I imagining that?
No. I have a new iPad as well and it does run warmer than my first- and second-generation iPads. I've noticed it when using GarageBand and playing some graphics-intense games. If you flip the iPad so it's face down you'll feel the heat along the right edge in the middle of the device. Look through iFixIt's teardown of the new iPad and you'll see that this is the location of the logic board.
We're not the only ones. There are a couple of threads on Apple's discussion forums ( here and here) where participants talk about the issue.
The real question is whether this is something to worry about. According to Apple, no. As reported by AllThingsD's Peter Kafka, Apple PR's Trudy Muller issued this statement: "The new iPad delivers a stunning Retina display, A5X chip, support for 4G LTE plus 10 hours of battery life, all while operating well within our thermal specifications. If customers have any concerns they should contact AppleCare."
As I said, mine gets warm, but not alarmingly so. I've had laptops that run far hotter. But if you find that yours is uncomfortably hot, I'd suggest you follow Apple's advice and contact AppleCare.
iPad (third generation) family