If you popped into Betty's Speakeasy, a cupcake shop in Philadelphia, last Saturday, then you probably saw co-owner Dylan Snow taking pictures of pastries using an iPad 2. After years of doing retail business with traditional machines—a cash register and a card-swipe reader to process customer credit cards—Betty's is doing away with both and replacing them with an iPad.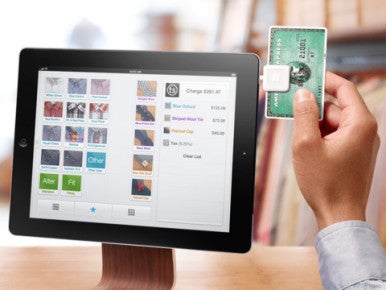 While the iPad, loaded with the new Square Register app, offers a number of business-friendly features, Snow is happiest that the app replaces his traditional card-processing service, which charged both a monthly fee as well as a cut of transactions—the rate of which varied depending on the type of card used. Instead, Square just takes a 2.75-percent cut of every transaction swiped through the iPad—a reduction in expenses for Betty's that means bigger profits.
"Right now we're paying $69 a month in merchant services to swipe credit cards," Snow said. "We won't pay that with Square. [The new iPad] pays for itself very quickly."
Such stories are behind the growing market for iPhone- and iPad-based card-swiping systems like those offered by Square. PayPal recently announced that it is launching its own card reader and app for iOS; it joins a sector that also includes big players like VeriFone's Payware and Intuit's GoPayment. (That list doesn't even include Google Wallet, which is currently compatible with only the Nexus S 4G Android phone.)
Turns out there's big business in catering to small businesses and independent vendors like food trucks and farmer's market vendors.
"The target market for these products are small businesses who otherwise would be cash-only," said Denée Carrington, an analyst with Forrester Research, adding: "Merchants can now capture revenue that previously could have been missed altogether if the consumer didn't have cash."
While most of the card-reader services can be used on a variety of mobile platforms, iOS devices have led the way—due both to their "cool factor" and, according to users, their simple sturdiness. And they point out that if the hardware does have a problem, it's quicker and cheaper to go buy a new iPad than it is to wait for a delivery from a business-supply warehouse.
"We needed more reliable hardware," said Snow at Betty's Speakeasy, "and that was the iPad."
Buying an iPhone or an iPad is the easy part, though. How do merchants choose between services? All provide a free app and a free card-reader to attach to your iPhone and iPad. But there are some differences.
Intuit GoPayment: This service offers two tiers—a free service that charges merchants a 2.7-percent fee for each swiped transaction, or a $13-a-month service for high-volume users, which drops the transaction fee to 1.7 percent. (That's if you use the card reader; you can key in a credit card number via your iOS device's touchscreen, but Intuit charges a higher fee for those transactions.) Intuit also offers integration with its QuickBooks small-business software, which might ease a merchant's paperwork hassles. Vendors are promised access to their money within two to three days of the transaction.
VeriFone Payware: Like Intuit, there are two tiers of service here: The free version charges a 2.75-percent fee for each card swipe; a $10-monthly service lowers that rate to 1.95 percent. (VeriFone's site includes a calculator to help merchants decide which option makes the most financial sense.) The company also promises iPhone-enhanced security for disputed payments by geotagging every sale made off-premises with the latitude and longitude of its location.
PayPal Here: No tiers here; PayPal will simply charge a 2.7-percent fee per swiped transaction. The company is attempting to entice merchants with access to PayPal's existing customer base of more than 100 million people who already use the company for online financial transactions, along with the promise of round-the-clock tech support—and immediate access to funds in their PayPal account.
Square Register: This is the pioneering company in the market—one that says it is now processing $4 billion in payments annually. Like PayPal, it charges one rate: 2.75 percent. Its new Square Register app expands the company's services beyond mere card-reading to all aspects of a retail sale, even offering cloud-based business analytics that a business owner can check remotely. The company promises next-day deposit of funds into a merchant's bank account.
What those offerings have in common is that they're aimed at the very smallest businesses. But iOS-based retail is expanding into mid-sized companies; Revel—targeting businesses with $500,000 in annual sales—recently introduced an iPad-based point-of-sale system that lets customers choose what they want to buy, then swipe their card to complete the sale. The system is in place at Twistee Treat, a Florida-based chain of ice cream franchises.
"We took on the iPad because they're selling like hotcakes," said Twistee Treat CEO Corey Balzer. "For us, because we're a 30-year-old brand, it really updated our brand overnight. The more Apple does—obviously they're doing pretty well—we're piggybacking off of that."
Industry observers say the market for mobile card readers is only about 10 percent as big as it could be. Despite Revel's advancements, though, most companies expect to focus on small businesses for now.
"For the foreseeable future, it will be a lot of incremental enablements—we'll be able to enable lots of businesses that don't currently have credit card readers," said Hill Ferguson, PayPal's senior director of mobile. "We're not looking to displace [the traditional credit card] infrastructure; we're looking to enable the entrepreneur."
[Frequent Macworld contributor Joel Mathis is a writer in Philadelphia.]