OS X Lion wants you to pick up where you left off. Applications open when you log out or shut down your Mac automatically reopen when you restart. When you launch an application, it reopens all the windows that were open when you quit, even if you saved the documents and assumed you were done with them.
I don't know anyone who likes Lion's Resume features—and I know a lot of people. Most users want to start with a clean slate, not wait for all the previous programs to relaunch and deal with leftover document windows clamoring for attention. Luckily, you can turn off the Resume options and set up your own startup scenario:
Turn off the Resume defaults
It's easy to turn off the application auto-resume option: when you shut down or log out, deselect Reopen Windows When Logging Back In in the confirmation dialog box. The only hitch is that the button resets to the selected state, so you must uncheck it every time.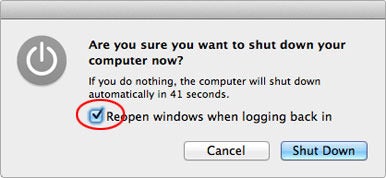 You can also keep your previous session's documents from coming back to haunt you every time you start an application. Open System Preferences and click on General. In the Number Of Recent Items section, uncheck Restore Windows When Quitting And Re-Opening Apps. This affects all your applications—you can't pick and choose which should use Resume and which shouldn't.
Control when you want windows to reopen
You've killed the window-resume feature, but now you're quitting Microsoft Word, and you have seven related windows you want to work on tomorrow. Don't you wish you could override that don't-resume setting in General Preferences? You can. In fact, you can override it when you quit an application or when you launch it.
Hold down Option and choose Quit from an application's menu to see the command change to Quit And Keep Windows. (Alternatively, press Command-Option-Q.) If you haven't disabled the resume feature, adding the Option key changes the command to Quit And Close All Windows.
Alternatively, press Shift as you launch a program to override your window-resume setting.
Choose yourself what items open automatically
Now that you've tamed Lion's Resume features, decide what you want opened at startup: which apps, which documents, and even which Finder windows.
If the app you want auto-opened at startup is in the Dock, simply click and hold or Control-click, it to see its menu. Go to Options and select Open At Login from the submenu.
If the app is not in the Dock, take a trip to a System Preferences pane many users routinely ignore. In the Users & Groups pane, select an account at the left, and then click the lock icon and supply a password to unlock the account. Click the Login Items tab to access the list of items that open automatically when you start your Mac. Some programs automatically add themselves to this list when you install and use them, but you can make changes, too.
Add an item to the list by clicking the Add (+) button beneath the list and using the Add sheet (a slide-out Open dialog box) to find the items you want. To remove something from the Login Items list, select it and then use the Delete (-) button beneath the list.
Here are some useful things you can add to your Login Items list:
•Applications Save yourself a bit of time every morning by making the programs you use the most launch automatically. It's usually easier to drag program icons to the Login Items list from the Applications folder instead of using Dock menus. The program's icon doesn't have to be in the Dock, and once the Applications folder is open, you can add more than one program at a time. (Command-click to select non-contiguous multiple items).
•Documents Do you start every day reviewing an Excel budget spreadsheet or by adding a new plot twist to your Great American Novel, chapter 82? You can drag documents into the Login Items list too. The parent app, of course, opens along with the document.
•Finder windows If you drag a folder into the Login Items list, its window will automatically open at restart, returning to its last size and position. Ditto for items like server volumes.
•Webpages Do you have a flock of webpages you check first thing every day? The New Windows Open With setting in the General pane of Safari's preferences lets you set what shows in a new window—even if it's a multitude of tabs for different sites—but then every new window displays them.
Instead, create bookmarks for websites you check daily, and then access them all with a single click by putting a button on Safari's bookmarks bar that opens them into tabs. Choose Bookmarks -> Add Bookmarks Folder, which opens the Bookmarks window with the new folder selected. Name the folder and drag in bookmarks you want to be part of your startup routine. Drag the folder to the bookmarks bar at the top of the Safari window, and then click Bookmarks Bar (under Collections) in the sidebar. Find your folder in the list of bookmarks bar items and check its Auto-Click option. This changes it from the default drop-down menu in the bookmarks bar to a button.
Set Safari to open at startup by dragging it into the Login Items list. It always opens a new window when it launches, so all you have to do to access your pages is click the new bookmarks button.
You can find more information about nifty Safari tricks in Sharon Zardetto's ebook Take Control of Safari.