This week's app roundup brings you new and better ways to get in shape, watch TV, and battle alien pigs. Because in space, no one can hear you oink.
Already this week, Macworld's Lex Friedman brought you news of Smule's latest offering—Beatstream, an app that takes tracks from your iTunes library and turns them into a Tap Tap Revenge-style game. Lex also reported that the popular new game Draw Something had been acquired by Zynga. Jason Snell let us know about the update of Comixology's Comics app to take advantage of the new iPad's high-definition Retina display. And Chris Breen took a first look at the MyTunes Pro music apps, which he called "an attractive app given its $10 price."
Here are a few other new and updated apps that caught our eye this week: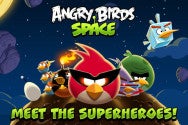 Angry Birds Space: Maybe it's just us, but it sure seemed that the original Angry Birds game had already conquered every iPhone on Planet Earth. The next logical step? The galaxy. And that's exactly what happens in the $1 Angry Birds Space. This time, our cranky avians lose their egg to a giant claw, and follow it into a wormhole where they are surrounded by—yes—piiiiiiiiiigs iiiiiiiiiin spaaaaaaace! The game features 60 levels, some played on strange new planets and others in zero gravity, and in-app purchases offer additional levels of gameplay. Buyers should note the game requires an iPhone 3GS or later, and only works with the fourth-generation iPod touch.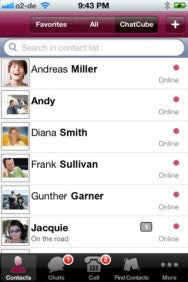 ChatCube: If you prefer Web-enabled VoIP calling to the cellular service available on your iPhone—or if you want to use your iPod touch to make any calls at all—you have a new option with the free ChatCube app from Goober Europe. The app allows you to make free high-definition audio calls to other ChatCube users, but you'll need to pay for out-of-network calls: The company sells credits in $5 chunks, with rates that start at 1 cent per minute and vary depending on where you call. ChatCube is a bit more social than similar VoIP apps like Skype, though: It can detect other ChatCube users nearby—two users can shake their iPhones to exchange contact information—and it encourages you to invite your Facebook friends to the service.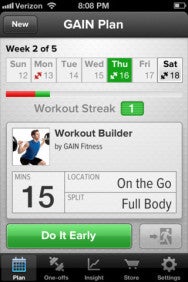 Gain Fitness: When it comes to getting in shape, we at Macworld believe there's only one real option: Treadmill desk. But we're aware that some of you might actually desire exercise that has aerobic and muscle-building benefits. The latest version of the free Gain Fitness app for iPhone is designed to bring out your inner Arnold Schwarzenegger: New features include a four-week fitness-planning feature that reminds you when to go work out and tracks your performance; there are also high-definition videos to show you how to perform an exercise, as well as "vocal cues" that call out the name of the exercise you should be performing as you move through a workout.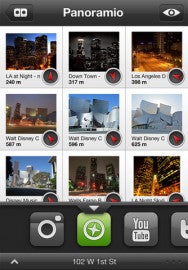 Localscope: We liked this app a lot when we reviewed it last year, but noted that it could use some improvements. Luckily, the folks at Cynapse keep updating the features in their $2 Localscope iPhone app. The app still aggregates other services to help you choose a nearby spot to go have coffee, eat dinner, or buy groceries. Now the app has added Fwix to the list of services it uses—which not only adds another layer of local business reviews, but also brings geo-tagged news headlines to the app. Finding your way around the neighborhood will also be easier: Localscope now integrates with the MotionX GPS and Verizon Navigator apps to guide you to your destination. And there's a bonus feature: The app now offers Norwegian language support. Gode nyheter!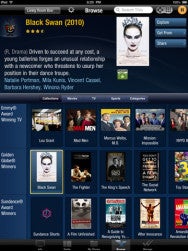 TiVo: Being able to control a DVR using the iPhone and iPad offers us a constant reminder: We're living in the future. Now TiVo has revamped its free hybrid app for iPhone and iPad with new features that make the task even easier. On the iPad, the navigation has been revamped so users can more easily browse for TV show and movies they want to watch; on the iPhone, the app has been upgraded to accommodate the Retina display of recent iOS devices. You'll really want this upgraded app, though, for all the ways it now lets you manage your TiVo: There's now a "Keep Until I Delete" option in MyShows, more recording options for shows you haven't watched, and a new WishList for shows that aren't currently airing. Now you can demand more from your video-on-demand.