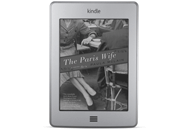 Amazon's Kindle Touch 3G e-reader will start shipping across the globe with free 3G wireless access on April 27, Amazon said on Tuesday.
Users in 175 countries and territories around the world can pre-order the device on Amazon.com, while users in the U.K, Germany, France, Italy and Spain can buy the e-reader on their local Amazon sites, according to the company.
The Kindle Touch 3G will cost £169 ($270) in the U.K. and €189 ($252) in France, according to Amazon.co.uk and Amazon.fr. That compares to £89 and €99 for Amazon's cheapest e-reader, which is just called the Kindle.
The Kindle 3G Touch has a 6-inch screen and weighs 220 grams. The integrated storage can hold up to 3000 books and battery life is up to two months, Amazon said, without elaborating on the usage the battery life would permit.
The basic Kindle has the same screen weighs less at 170 grams, but can only download content via Wi-Fi and has less storage.
The Kindle Touch 3G is now also available in seven languages—German, French, Italian, Spanish, Brazilian Portuguese and American or British English—allowing users that speak those languages to read, take notes, and navigate in their native tongue.
The international availability of the Kindle Touch 3G is a step forward for consumers that like Amazon's e-readers. However, international users who have set their sights on Amazon's Android-based Kindle Fire tablet will have to wait: The company didn't say when the device would arrive outside the U.S.