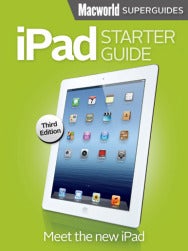 We recently released our iPad Starter Guide for the third-generation iPad; as a special gift to Insiders, we're giving the $3 bundle (a zip file of the book in ePub, MOBI, and PDF formats) free to you!
Whether you already have a new iPad in hand, are waiting anxiously for its arrival at your doorstep, or are seriously considering purchasing Apple's latest tablet, let the Macworld editors help you get to know the third-generation iPad with the third edition of our iPad Starter Guide.
Totally new to the iPad and not sure where to begin? Our Starter Guide will introduce you to the new iPad's exterior and teach you how to activate the device. You'll discover basic gestures for navigating through apps and home screens, and learn some of our favorite iPad tips and tricks.
Maybe you've owned an iPad before, but want to freshen up on the device's features and learn about new iPad additions. We'll walk you through Notification Center, Dictation, and iCloud, Apple's syncing service. Learn how to customize your settings to your liking, discover downloadable Apple apps like Find My Friends and Find My iPhone, and find out which third-party apps are worth your time.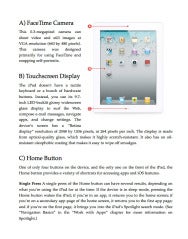 We're offering this book free of charge for Insiders in a three-format bundle (normally $3) so that you can browse through it on your computer or mobile device. Inside this bundle, you get: an ePub, for iBooks and other compatible readers; MOBI, for the Amazon Kindle and Kindle app; and a PDF, for any PDF-compatible program. (We've included instructions on using the different formats in the zip file, and you can also download our handy how-to for getting each of those files on your respective device.)
Thanks again for being a Macworld Insider, and as always, please don't share your free book with others—this is our special gift for loyal subscribers such as you. And if you enjoy this book, be sure to check out our other Superguides, available on the iBookstore or via our website. Insiders can also get $3 off bundles, PDFs, or CD versions of our books on our Web store with the coupon code MWREADER6.