While testing the new sketching app Paper, I couldn't decide whether I loved or hated it. Paper has the potential to be brilliant, but in its present form has too many flaws for it to earn a place in my iPad's dock.
Like many "sketchbook" programs for iOS before it, Paper provides a series of notebooks which you can customize and sketch in to your liking. The app does the notebook interface better than any of the others I've tried; it allows you to customize the cover with an image or photo from your library, skim through completed notebooks, and enter drawings, add pages, or share them with just a tap.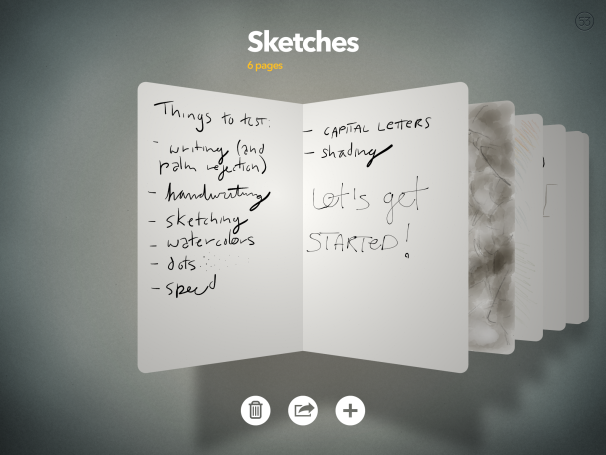 It's great skimming through virtual sketchbooks like this: It's all the fun of browsing through someone's Moleskine, but with swiping instead of page-turning. And the graphics are top-notch; on a third-generation iPad, slowly turning a page is almost as fun as doing the drawing itself.
The tools
The free version of Paper offers a nib pen for sketching, an eraser, and a smattering of colors with which to illustrate your drawing. The pen is fairly robust for a simple sketching tool, and if you're just planning to do some writing and line drawings, it could suit you just fine.
You can add up to four additional tools (a pencil, marker, ballpoint pen, and watercolor paintbrush) for $2 each, or buy the full set for $8. I purchased the entire toolset to experiment with, but the two you absolutely have to add to your arsenal are the pencil and the watercolor brush.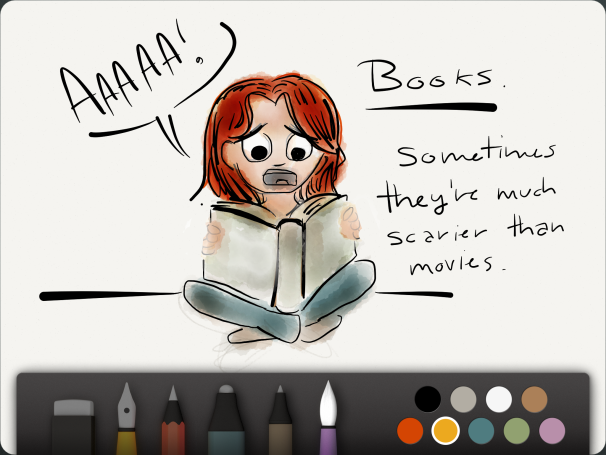 The app doesn't provide real pressure sensitivity, as the iPad doesn't support it. Instead, Paper's pens and brush use speed to control the opacity and line width. It's not the first app to take this approach, but Paper locks you into both its speed formula and tool sizes. You can learn the system after a bit of practice, but it's not fun. (One tip I discovered: The slower you move the eraser, the smaller the erased area will be.)
Paper's pencil tool may be my favorite part of the app; it's the best implementation of a pencil and real sketching on a tablet I've seen, even without pressure sensitivity. This is in part due to the way you use a pencil versus other tools: You naturally make quick, thin lines, and the app is fine-tuned for that sort of use.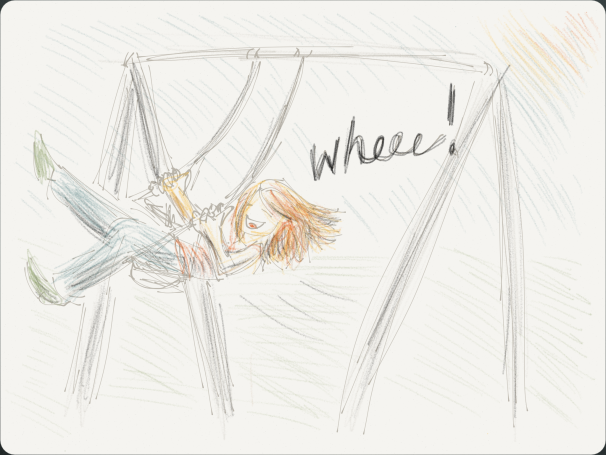 Clumsy brush
The watercolor brush is less precise, but its effects are lovely: The color blending reacts in such a way that I often felt like I was mixing real watercolors. Where it fails, however, is in its speed formula. It's almost impossible to paint a large swath of canvas without leaving much lighter spots or creating large blotches in the middle. Also, its brush, which is about the size of a finger, feels too big and clunky for most drawings; unlike the finer-tipped pencil and fountain pen, there's no way to color anything of detail and not have it look sloppy.
You might be able to solve this by zooming in on the canvas, but unfortunately Paper can't currently do that. (A posting on the company's support forum indicates that that feature may be coming in a future update.) Without zoom—and unless you're gifted with a stylus or a finger—there's no way to create really detailed drawings.
The lack of zoom means that you often end up drawing in the middle of the screen, which makes for an unfortunate "bleeding across the page" effect when you return to notebook view: The canvas gets split up across the two "pages" of the notebook, which can make drawings look very strange. (You'd think there would be an option to draw on a single page in portrait, as there is in both Penultimate ( ) and Bamboo Paper, but there isn't.)
If you experiment with Paper, you'll probably wonder whether you need a stylus. I personally preferred using one instead of my finger, though I found that I had a difficult time using most non-nib styluses (Adonit's Jot Pro, Ten One's Pogo Sketch Pro). One exception was the Nomad Compose; the slanted brush worked best for me when sketching or using the watercolor tool.
Rewinding through time
Brushes and pretty books are nice, but the Paper feature that really caught my eye was Rewind, which uses a video shuttle metaphor for an undo gesture: By placing two fingers on the screen and turning to the left or right, you can undo/redo up to 20 lines.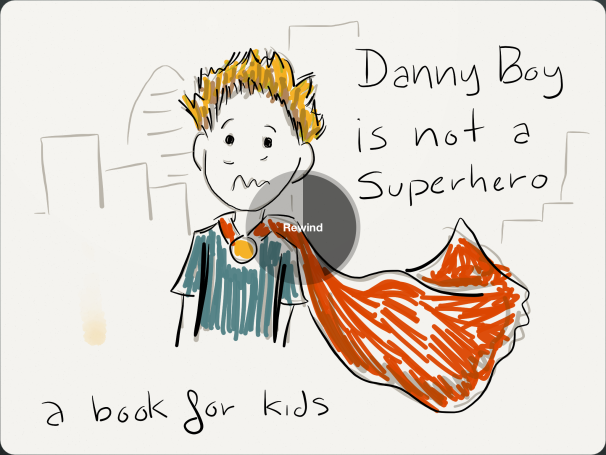 To get this gesture to work correctly, make sure to drag your two fingers together in a clockwise or counter-clockwise motion, rather than twisting your fingers (like you would to rotate a photo). If you do the latter, the app is likely to get the gesture confused with the two-finger "pinch to close the page" implementation. (If you're still confused, Paper has a nice how-to video available for this and its other various gestures.)
Speaking of undo, while the 20-line limit is understandable, I'd kill for a larger buffer. Even 20 lines aren't many when you're sketching with the pencil tool, especially if you want to experiment with different ways of coloring or outlining. (At the very least, it'd be nice to see an eraser with some opacity to it, or a way to duplicate sketches.)
When you're done with a drawing, Paper offers a few of the most popular options for sharing it—Tumblr, Facebook, Twitter, or email—but it neglects to provide the simplest one: Export to Camera Roll. If you want to do that, you need to snap a screenshot when the sketch is full-sized.
Paper's flaws are especially frustrating, because the app is otherwise so promising. There are parts of it I absolutely love. But until Paper gets a serious upgrade, I can't see it becoming my go-to sketching app.
Updated at 4:30 p.m. PDT to clarify the Rewind gesture.
[Serenity Caldwell is an associate editor for Macworld and resident iOS stylus expert.]