This week's roundup of iOS apps includes big improvements to the much-loved Instapaper app, as well as a whole new way of seeing and calculating numbers.
Earlier this week, Macworld's Serenity Caldwell took a first look at the new Paper sketchbook app and concluded that while it's promising, it's still in need of a "serious upgrade." We also brought you news of Box OneCloud, a suite of 30 iOS-enabled productivity applications, as well as Dan Moren's first look at the Microsoft-inspired Tapose app, which Dan says is "hit-or-miss."
Also new this week, a pair of reference apps designed for both the iPhone and iPad. Mactracker is a guide to every Apple Macintosh computer ever made; its version 2.0 now takes advantage of the new iPad's Retina display. Pocket Brain is a detailed anatomical tour of, well, your braaaaain. Zombie iPad users will love it!
Other new and updated apps that caught our eye this week: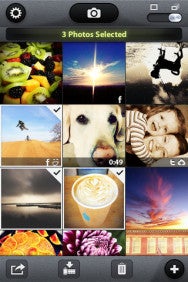 Camera Awesome: Sure, it's only been about a month since we told you about the launch of SmugMug's free Camera Awesome photography app. But this week's upgrade offers three new features that deserve mention. First and foremost, the app now features Instagram integration, letting users upload their edited pictures directly to the popular photo-sharing service. Second, Camera Awesome now offers in-app tutorials—useful, given the complexity of its photo-editing tools. And third, in-app purchases of effects packages have been lowered to a dollar apiece. What's the word for all of that? Awesome.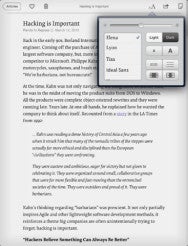 Instapaper: We at Macworld have been quite open about our love of Marco Arment's $5 Instapaper app. One of the things we love is his continuous improvement of what started out as a pretty great application for saving online articles for later reading. That pattern continues with this week's launch of Version 4.1.1. Among the highlights: You can now choose whether to view your collection of articles in either the new grid or the old list format. The pagination feature has been upgraded, with a "subtle" animation that makes it easier to tell if you've swiped forward or backward in the article you're reading. And the app's "dark mode" includes several upgrades, including the automatic dimming of pictures in an article, so you're not suprised by a blast of light in the dark—tap the photo and it will brighten, if you choose. Instapaper just keeps on getting better.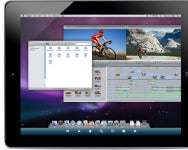 LogMeIn: Most of the upgrades we mention involve an overhaul of the app itself. That's not the case with the latest offering for the free LogMeIn app, which instead this week unlocked a feature for Mac owners that was already available to Windows users. The app lets iOS users remotely view and operate applications on their desktop computer, but now LogMeIn Pro members—the pro service costs $40 a year—who are also Mac owners can enjoy the ability to wirelessly stream high-definition video, audio, and multimedia applications from your Mac to your mobile device. Have a digital copy of The Godfather on your computer at home? Now you can watch it on your iPad while you're on the road.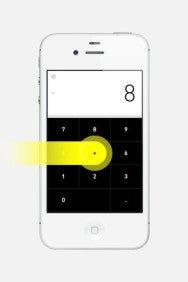 Rechner Calculator: We feel like we may have seen the future of calculators, and it's Keiran Flanigan's $1 Rechner Calculator, billed as "the world's first gesture-based calculator." The screen doesn't show you any math symbols, just numbers—enter a number, double-swipe to the right, and you've set the calculator to multiply that number. ( This video shows how it's done.) If that seems a bit complicated, you can drag down on the display to see and use the plus, minus, multiply, and divide buttons. It's not quite the same as being able to think your calculations onto an iPhone screen, but it's one step closer than we were before.