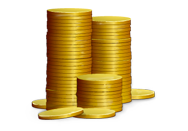 They say that money makes the world go round, so Apple must be spinning like a top these days. The company has announced that its quarterly earnings call for the second quarter of fiscal year 2012 will take place on Tuesday, April 24, 2012.
The second quarter will no doubt be of interest to investors, analysts, and Apple watchers alike, as we'll find out just how well Apple's newest iPad has been selling, beyond the 3 million opening weekend number that CEO Tim Cook previewed in March.
The previous quarter saw record sales of the iPhone, thanks to a productive holiday season and the fall introduction of the iPhone 4S. Given that Apple has released no new products other than the revamped iPad and the marginally updated Apple TV, expect attention from analysts to focus mainly on sales of Apple's tablet.
The other topic sure to garner plenty of questions is the company's recent announcement that it will be both issuing a dividend and buying back shares beginning in fiscal year 2013. While Cook and CFO Peter Oppenheimer already fielded some questions on the topic, it seems likely that there are a few more to come—especially since some analysts have been critical of the amounts that Apple plans to pay out, given its sizable cash holdings.
In January, Oppenheimer forecasted $32.5 billion in revenue for the second quarter, with diluted earnings per share of around $8.50. Apple's predictions are, of course, notoriously conservative, which explains why analysts are expecting numbers more in the neighborhood of $35.88 billion in revenue and $9.78 per share. In either case, it would show tremendous growth over Apple's second quarter last year, in which the company posted revenue of $24.67 billion and earnings of $6.40 per share.
The earnings call kicks off at 2 p.m. Pacific on April 24, and Macworld will as always have live coverage right here.