Like everyone else, I detest spam, and I seldom opt in to receive marketing email, even from companies I like and do business with regularly. Even so, I do look forward to receiving periodic newsletters from nonprofit organizations I support, tips on using some of my favorite applications, announcements of upcoming events at the library, and yes, even the occasional notification of big discounts on products I have a special interest in. If your business or organization wants to send messages like these, a group email service, which manages the entire process for you via a friendly Web-based interface, may be just the ticket.
Why use a group email service?
Ordinary email programs like Apple Mail ( ) and Microsoft Outlook ( ) aren't the best tools for sending messages to large groups, because they force you to maintain your mailing list manually and provide no built-in tracking capabilities. They also may run afoul of your ISP's limits on outgoing email if you send the same message to hundreds or thousands of people.
Numerous mailing list programs exist, but running software on your own Mac means you have to add mailing list administration—and possibly network debugging, legal compliance, and Web design—to your list of obligations. Similarly, technically adept users who manage their own Web servers can install server-based list manager software such as the open-source phpList, but again, you must assume the burden of managing tedious details. You could use a free service such as Google Groups, but you may be unhappy with its limitations and prefer something with your own branding and style.
For all these reasons, businesses and nonprofits increasingly turn to any of numerous providers of large-scale, one-to-many email services. The providers I have in mind go to great lengths to facilitate professional, opt-in marketing and communication campaigns, so if you're looking to spam millions of random people with ads for fake Rolexes, this isn't what you're looking for. But if you have a growing business that would benefit from keeping in personal contact with your customers or a nonprofit organization that wants to send monthly newsletters to donors, it might be easier than you imagine.
What are some of my options?
Many, many companies provide group email services. Here is just a sampling of some worth looking at (make sure to share your favorite in this story's comments):
Although these providers differ in focus and implementation, they all offer a similar range of features.
What features can I expect?
If you already have a list of contacts who have agreed to receive email from you, a group email service ordinarily lets you upload it as a starting point. Otherwise, your customers can use a Web-based form (on your site or the provider's) to sign up using a double opt-in process. That is, users opt in by entering an email address, and confirm that they truly intended to sign up by clicking a link in a confirmation email message. Either way, you can then manage your contact list online—in some cases adding custom fields or tying it into your existing contact database.
All these providers offer browser-based WYSIWYG HTML editors for creating your mailings using either predefined newsletter templates that you can customize as needed or your own original design. This lets anyone, from a Web-design rookie to a professional layout artist, create handsome, professional-looking newsletters. (Plain-text versions of the messages are also a universal option.)
In the process, you can use variables to customize the message for each recipient (much like your word processor's mail merge feature), using any data you've collected about the person—name, birthday, city, time zone, and so on. Furthermore, you can generally use any of these characteristics, as well as information about how each person has responded to previous email campaigns, to perform list segmentation—that is, sending a particular version of a message only to people who meet certain criteria. Messages can be sent immediately or scheduled for the time of your choice.
Once a message has been sent, the providers automatically handle bounce processing (for example, when a person's email address is no longer valid) and unsubscribe requests. They also generally work closely with major ISPs to make sure legitimate messages aren't flagged as spam. But more interestingly, these services enable you, the sender, to discover exactly how effective each mailing was. You can track the number of recipients who viewed any message and how many clicked any links within it. In some cases you can drill down to the behavior of individual recipients, to discover, for example, which email client each person uses and which particular links they click on.
Beyond these common features, each provider has its own list of extras, done in its own way. For example, many providers offer social media integration, such as "Tweet This" (or, for Facebook, "Like This") buttons in the email messages. Auto-responders enable you to set up personalized messages that are sent in response to some trigger—a welcome message when a person signs up, a birthday greeting, or a thank-you for making a donation. Many providers have an RSS-to-email feature that lets you send out blog posts automatically as email messages, and some do the reverse (publishing your email marketing messages to an RSS feed). You may also be able to conduct polls and surveys via email campaigns and archive previous newsletters to a website for future customers to peruse.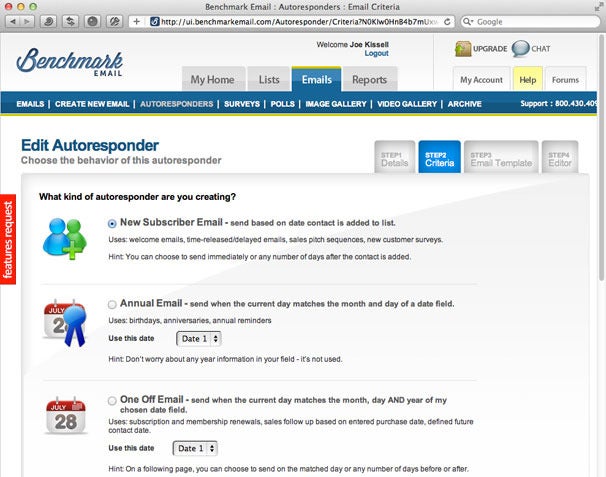 How much will it cost?
All these services offer free trials that let you test their capabilities on a small scale before paying anything or importing thousands of email addresses. Most of the services even offer permanent free accounts, with some restrictions (such as missing features or limited mailing list size). For example, Benchmark Email offers a Free For Life plan that's just what it sounds like, but the catch is that all members must individually complete a double opt-in process—you can't upload an existing list of addresses.
Beyond that, pricing policies vary widely. Most services offer monthly plans at several different levels based on the number of subscribers, the number of campaigns sent per month, or the total number of messages sent per month. One of the least expensive plans is from YMLP, which charges $3.75 per month for up to 500 messages. iContact has plans starting at $10 per month for 250 subscribers (with a limit of six mailings per month). Less common are pay-as-you-go plans that cost more for a given number of messages but require no monthly commitment. For example, MailChimp charges $9 for 300 messages with no further strings attached. In all cases, the price per message or subscriber decreases with volume (such as iContact's $699 monthly plan for 100,000 subscribers), and most services also offer generous discounts for nonprofit organizations.
Senior contributor Joe Kissell is the senior editor of TidBits and the author of the ebook Take Control of iCloud.