It's sad. But it's a fact. With the demise of Apple's MobileMe online service, it's time to think not only of moving to a different Web host, but eventually of replacing Apple's iWeb website builder. All indications point to iWeb's future demise as the Mac OS advances and iWeb is neither supported or upgraded.
During this transition period, remember that switching design tools is not urgent. You don't have to make a radical design change right away. All you have to do at MobileMe's passing is save your website to a folder and move it to another web host. For now.
However, even if you host your site without MobileMe, someday you'll have to leave iWeb behind. Now is the time—if you have not already done so—to check out other options. There are many Mac website building tools for you to choose from, both as Mac software and as online services. Eventually, you will have to choose one.
The tool you pick will answer the question of whether you're in love with and married to your current site design…or whether you're willing to shake things up a bit. We suggest shaking things up because Websites should not, by their nature, be stagnant. Just like all good publications, websites should be redesigned every so often to leverage new technologies and to enhance visual and contextual interest.
Here are some steps you can take to get started with this task.
Choose a new design tool
Your new design tool will either be a native Mac application like iWeb, or Web-based software. Most Mac-native apps offer benefits like the familiar look and feel of OS X, local Time Machine backups, and the ability to edit sites offline. However, you'll have to pay for both the app itself and for site hosting, much like you did with MobileMe, and you will be able to apply at least some of the money you had paid for MobileMe to a new Web host.
Web-based site builders are typically free, and they let you construct and edit sites with the service's Flash-based design tools in any modern browser. This means you can't edit your pages on an iOS device, but you can view them full-size, or in an optional view that automatically reformats your content for mobile devices, on your iPhone and iPad. However, most Web-based services can't compare to native apps for flexible WYSIWYG editing and iLife media integration.
The most important step in finding an iWeb replacement is assessing your old site's purpose and appearance. Do your pages contain text-heavy blog posts, or are they mostly photo and video galleries? Are the designs from stock Apple templates, or have you tweaked them until they're hardly recognizable? The answers to questions like these will help you choose the right tool for your needs. Generally, the simpler the site, the easier it is to recreate in a different builder.
Among native Mac applications, casual bloggers should consider Realmac's RapidWeaver ($80). Its clean, iLife-inspired interface puts a lot of power in an attractive package. The blogging tools in Karelia's Sandvox ($80) aren't as stylish, but its built-in widgets for Twitter, Skype, IM accounts, and more can turn your blog into a social media hub.
Free Web-based designers like Jimdo and Weebly also offer robust blogging tools. Although recently acquired by Twitter, Posterous is still available. Its free micro-site creation tools and iPhone app make blogging on the go almost as simple as updating your Facebook status.
For creating media galleries on your Mac, RapidWeaver and Sandvox boast integration with iLife's media libraries, though Sandvox's drag-and-drop gallery creation will be more familiar to iWeb users. Jimdo's Dropbox integration lets you turn a folder full of images in the cloud into a photo gallery, but to add videos to your site you'll have to first upload them to services like YouTube, then add them to your Jimdo pages as HTML widgets.
Designers looking to break away from iWeb's themes and templates will appreciate Tumult's Hype ($50). It's a user-friendly tool for creating code-free interactive HTML 5 animations, and it's powerful enough to build entire Websites from scratch. If customizing templates is a better creative fit for you, Weebly's simple, intuitive interface makes it a snap to quickly change your site's look and features.
Free trials of each of these tools are available as limited downloads from their developers' Websites, or, in the case of Web-based services, as free sign-ups. Try them out to see which one works best for you before taking the plunge.
Pick a new Web host
Visitors can't find your site online until it's uploaded to a Web host, a service that makes websites available to the Internet from networked servers. If you've used MobileMe to host your iWeb site until now, then in addition to choosing a new design tool, you'll also need to find a new hosting plan with another company. Most plans cost under $100 a year, but the exact figure depends on how much storage and monthly bandwidth is included.
If you choose a native Mac app to design your new site, consider using a hosting service suggested by the application's developer. That way the people behind your software and hosting service will be familiar with each other's products, which can make uploading your site and resolving tech support issues easier.
For example, Karelia Software recommends A2 Hosting for Sandvox sites. A2's basic plan offers unlimited storage and bandwidth starting at $3.32 a month. Realmac Software recommends Little Oak for hosting RapidWeaver sites. Little Oak annual plans start at $80 for 5GB of storage and bandwidth of up to 50GB per month.
Web-based design tools include hosting as part of their free services, but there are still pricing tiers and features to consider. Weebly's free plan offers unlimited storage and bandwidth, but uploads, such as photos, are limited to 5MB. The Pro plan starts at $27 for six months and increases that limit to 100MB. Jimdo's free plan includes 500MB of storage and unlimited bandwidth. Annual paid plans beginning at $60 offer increased storage that starts at 5GB.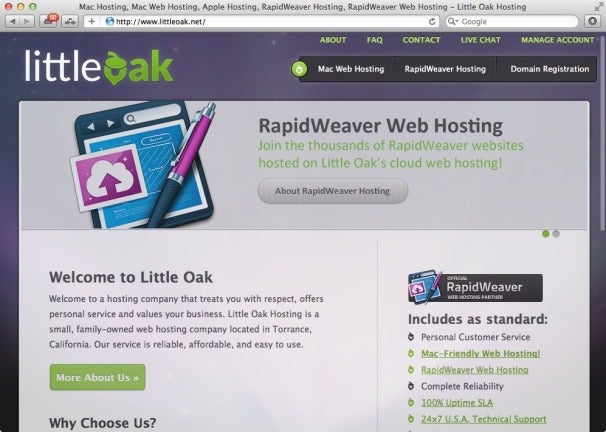 And if you want to hang on to MobileMe for the time being, MacAce just came out with MacMate, in beta as of this writing, as an alternative to MobileMe Web hosting.
Replace MobileMe-specific features
Moving from iWeb to a new design tool means more than just learning new ways to create and customize websites. Some handy iWeb features you may have relied on—specifically site-wide password protection, blog and photo comments, blog searching, and the humble hit-counter—required MobileMe hosting to work. Fortunately, most of these features can be reproduced, even improved on, with similar features and services from your new design tool and host.
While password protection isn't currently available for Sandvox, Loghound's $10 Lockdown is a RapidWeaver plug-in that keeps specific pages away from public eyes. It requires that your site's host use particular software on its servers, but a free trial lets you try before you buy. Jimdo offers password protection with its free plan, and Weebly requires a paid account to password-protect your site.
Sandvox comes closest to implementing iWeb's blog and photo commenting system by letting you add Facebook, Disqus, or IntenseDebate comments to any page—even to individual photos in an image gallery. RapidWeaver supports Disqus, JS-Kit, and Haloscan commenting, but only on blog pages. Weebly and Jimdo offer similar commenting on their pages. None of these tools offers iWeb's blog search feature, though each can generate RSS feeds that visitors can search with an RSS reader, such as the one built into Safari.
Duplicating iWeb's old-fashioned hit counter is easiest with Sandvox's Page Counter widget. None of the other design tools offers quite the same built-in same feature, though each can use third-party HTML widgets that do the job. Each can also use Google Analytics for much more detailed visitor tracking.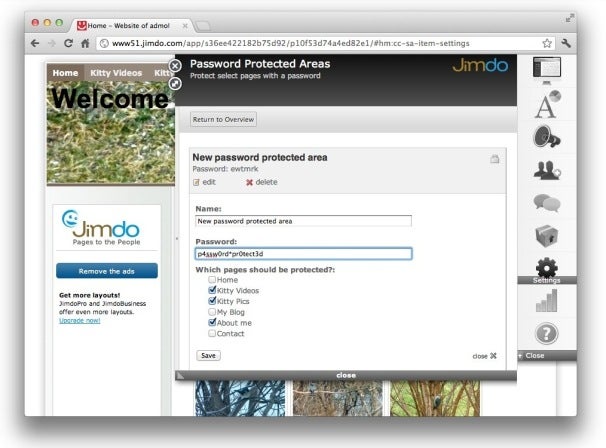 Transfer your iLife media
No matter what kind of site you've created with iWeb, it probably contains photos, movies, and other media you'll want to transfer to your new site. How you do that will depend on your new design tool.
If the media files are still in their respective iLife libraries, using a tool with iLife integration will let you access them quickly, much as you did in iWeb. Without iLife integration, you'll have to first export these files to a Finder folder, then upload them manually to your site. Alternatively, you can upload iLife media to services like YouTube or Flickr, then add those files to your webpages with an HTML widget. The Share option in iPhoto and iMovie's Menu Bar makes this easy.
If you've added media files to your iWeb site from other sources (dragged in from a Finder folder, for example), you may have since moved them from their original locations. They're still available within your iWeb document, however, and you can quickly access them by publishing your site to a folder on your Mac. This has the added benefit of exporting your site's assets in an accessible form in the event that iWeb no longer launches under future versions of OS X.
Select your site in iWeb's sidebar, then choose Local Folder in the Site Publishing Settings' Publish To menu. Choose a destination and click the Publish Site button. In the resulting folder, you'll find folders named for every photo gallery in your site (for example, "MyGallery_files"). In each is a Media folder containing folders for that gallery's pictures. The highest-quality images in them will be named "Web.jpg". Podcast and movie files can be found in your site's Media folder.
How easy it will be to reproduce your iWeb site ultimately depends on the site and which tool you use. That's a subjective decision you'll have to make for yourself, but some general rules will apply. The most important one is that you'll have to rebuild your entire site.
Unfortunately, there's no way to export a site from iWeb the way you might save a Pages document as a Word file, but if you've stuck to Apple's themes and templates, your job will be easier.
For example, I chose to reproduce my site in Sandvox, which—like most site designers—offers blog, gallery, and basic text pages like those in iWeb. Using them was a relatively straightforward process of matching page styles, then filling the new pages with media. Copying text from my old site and pasting it into the new one took a little more effort, but my new site was nearly complete in less than two hours. Your milage will vary, but the work will be worth it.
Not only will it teach you a new way of creating Websites, it will reconnect you with the great content you wanted to share in the first place.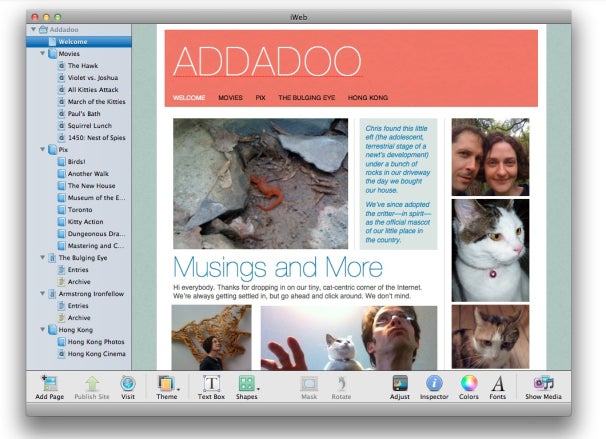 No one is thrilled with having to change something they worked long and hard on, sometimes over a period of years, to get just right. Fortunately, if you have to re-think your website, there are many convenient and fun ways to do it.
[Adam Berenstain is a freelance writer in upstate New York and a frequent contributor to Macworld.]