If you're a MobileMe user, you've no doubt been put on notice that your files, folders, and MobileMe account data is about to disappear into the ether.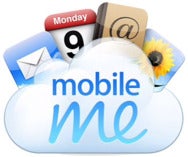 While you probably have a good idea what to do with your personal files and folders, you may not know exactly what to do with the websites hosted on your MobileMe account. One relatively simple alternative is to move those files to a free Dropbox account.
Dropbox's ability to let you easily share files on the Internet makes it possible for you to host Web pages as well. While this isn't necessarily the most elegant solution, it will work until you find a more permanent Web design tool and Web host.
If you used iWeb to create your Website, don't just drag and drop your files from your iDisk to your Desktop. Instead, an iWeb feature that allows you to publish your site to a local folder. Here's the sequence.
1. Launch iWeb and select the folder for the site you want to move to Dropbox.
2. In the publishing options section open the Publish to: menu and change it from MobileMe to Local Folder.
3. In the Folder Location section choose your Desktop as the folder location. You can leave the Website URL location blank for now.

4. Next you'll need to create a Dropbox account, if you don't already have one.
You can create a new account by going to Dropbox.com and clicking the Sign In link on the upper right side of the page. Just below the login fields is a link to create an account.

Once you finish creating your account, the Dropbox application will begin downloading to your computer. When the download completes, copy the app to your Applications folder, open Dropbox, and sign in using your account information.
One of the features of Dropbox that makes it easy for you to host webpages is the Dropbox Public folder. This folder is set up so that you can easily give someone a publicly available URL to share files without requiring any special configuration.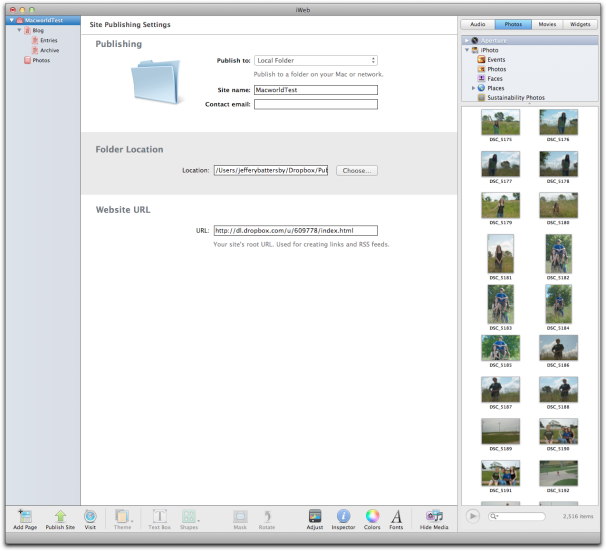 5. Locate the Public folder in your Dropbox folder and then move the iWeb folder on your desktop to the Public folder.
Moving files to the Public folder performs a little bit of magic on all the files you put there. For each of those files, Dropbox automatically creates a publicly available URL. (This is also possible with items outside of your Dropbox public folder, but requires some configuration.) The trick is getting a copy of that public URL so that you share it with others. Before you proceed, make sure that the Dropbox application is running. To do this, confirm that you see the Dropbox menu item in your menu bar.
6. Dropbox only provides public links for files, not folders, so you need to Control-click your website's index.html file that you want to share a link for, find the Dropbox menu item in the contextual menu that appears, then select the menu item that says Copy Public Link.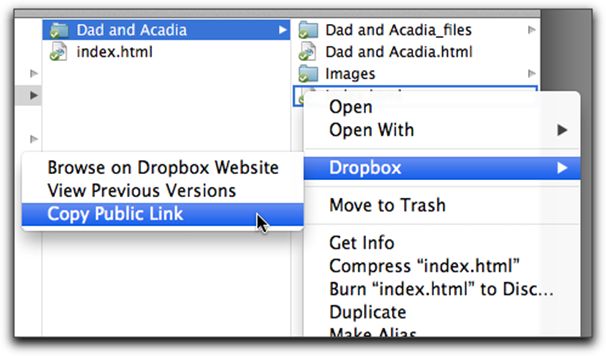 7. Paste this link into your Web browser and, voilá your iWeb website is now being hosted by Dropbox!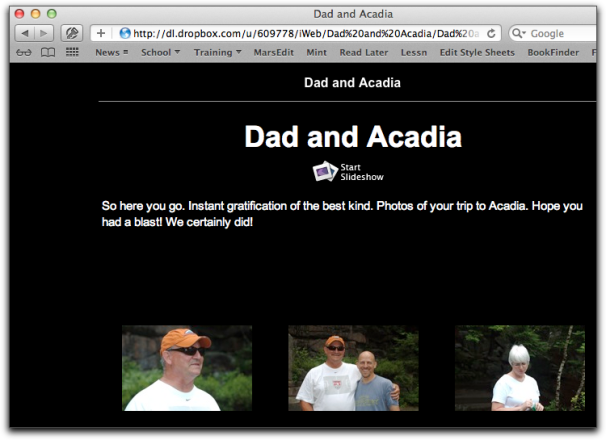 Because each self contained Web folder has its own index.html file, you can use this technique with multiple websites using the same Dropbox account—as long as you have enought space in Dropbox to hold everything.
[Jeffery Battersby is an Apple Certified Trainer, (very) small-time actor, and regular contributor to Macworld. He writes about Macs and more at his blog.]