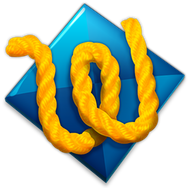 Bare Bones Software on Tuesday released TextWrangler 4.0, a significant upgrade to the free, pared-down alternative to the company's flagship BBEdit ( ) text editor.
After each major BBEdit upgrade—version 10 and 10.1 arrived late last year—Bare Bones brings its major interface improvements back to TextWrangler; that's what Tuesday's release is all about. The updated app better embraces Lion, streamlines preferences, revamps the editing window, and introduces a slew of other new features, to boot. (See our review of TextWrangler 3.5.3.)
In better embracing Lion, TextWrangler 4 now supports options like full-screen mode and the option to resize your windows from any edge.
The freshly redesigned preferences window includes a built-in search box, making it much easier to find the pane with the settings you'd like to configure. The preference options have been re-organized, too, so navigation is simpler and quicker as well.
Again following in BBEdit's footsteps, TextWrangler 4 drops the drawer; the editing window now employs an iTunes-style source list of your documents on the left, with your text editing window on the right. You can rearrange your open documents in the list, and a Recent Documents pane gives fast access to the files you were editing most recently.
Though neither BBEdit nor TextWrangler incorporates Lion's Auto Save feature, TextWrangler 4 does inherit BBEdit's ability to preserve the contents of all your open documents—whether saved or not—across relaunches. Create a dozen documents, don't bother to save a single one, and hard reboot your Mac? When you restart TextWrangler, every document should remain right where you left it.
Other features making the leap from BBEdit to TextWrangler 4 include live in-app text search; equal support for AppleScripts, Automator actions, and Unix scripts as text-filters or standalone scripts; an Open File By Name option; and support for Verilog and VHDL.
Nobody writes better release notes than Bare Bones; an obsessively complete list is available at the company's website.
TextWrangler 4 drops PowerPC support, and requires Mac OS X 10.6 Snow Leopard or later. Bare Bones founder and CEO Rich Siegel told Macworld that dropping support for PowerPC processors both "improves performance and shrinks package size for everyone else."
Siegel said that although BBEdit now costs $50—it cost $100 when TextWrangler was first unveiled as a free alternative—demand for TextWranger remains strong. "We still see a lot of individuals who are coming over from Windows, platform refugees, who are honestly shocked at the quality of what they can get for free with TextWrangler." He added that the free version is also very popular in schools, since the price tag fits every educator's budget.
BBEdit, of course, offers numerous features that aren't available in TextWrangler; among them are Projects (for grouping related files and folders), Clippings, integrated source control, Automator support, and Text Factories for powerful text manipulation.