Adobe is overhauling its PDF-reading app for iOS with new features that let users sign, annotate, and comment on documents directly from their iPhone or iPad.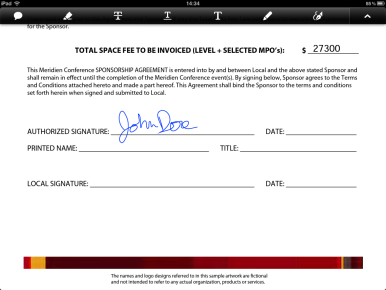 The update to Adobe Reader was announced Tuesday. Earlier versions of the app—which launched last October—were relatively static, letting users view, bookmark, and search documents without being able to modify them.
Now users can sign documents on their touchscreen, using their finger or a stylus. The app also includes annotation tools that let users highlight, underline, or strike through text. Sticky notes can be added to documents to enable comments on the text, while the new "form fill" feature gives users the power to fill out, save, and forward simple PDF documents.
In conjunction with its mobile app update, Adobe announced it is also upgrading its desktop Adobe Reader X application to let users add a signed or typed signature to cloud-accessible documents using Adobe's EchoSign service.
Although Adobe has long been one of the go-to players for PDF software on desktop, it has been somewhat slower in the mobile arena. Adobe Reader appeared after competitors like GoodReader and Apple's own iBooks offered PDF-reading options in iOS; the new features arrive after note-taking apps like Notability have folded PDF annotation into a broader range of offerings.
Adobe Reader is free in the App Store; it requires iOS 4.2.5 or later.