There are a million accessories for listening to music from your iPhone or iPad—and this week's roundup includes about half of them, plus items to help you hold your phone or use it as a laser. Yes, a laser. Here are the latest iOS accessories we've come across.
Bracketron: Want ready access to your iPhone while you're driving? Bracketron's $35 Universal USB Power Dock Pro Flex offers a solution. The flexible-necked holder plugs into your car's 12-volt power port, charging your phone while in transit. It provides 360-degree rotation so you can view your phone at the best angle—helpful if you're using its GPS function to navigate your route. A Micro-USB-to-USB cable is provided to charge other gadgets, such as a Bluetooth headset, through the USB-power port on the base.
Ceratec: Want style with your AirPlay-compatible speaker? The CeraAir Two provides just that. First noticed by our friends at AirPlaySpeakers.com, the slim, tubular speaker can be wall-mounted or placed on a desktop, where it puts out 200 watts of audio power. The device uses a pair of midrange-bass speakers and another pair of tweeters; the CeraAir Two is selling in Europe for €599.
Chinon: Here's a gadget that will help you maximize the video from your iPhone. The $150 AVi docking system includes a 7-inch screen to display videos from your iPhone or iPod, but it also acts includes a digital tuner so you can watch live, over-the-air TV. The device also features a radio and an alarm clock, as well as dual speakers for stereo sound. Chinon pitches the product as perfect for tailgating and road trips, or as a bedside entertainment system.
Korg: The iPad is good for many things, but can you play " Axel F." on it? You can now, thanks to the MicroKey series of iPad-compatible keyboards, featuring the $70 MicroKey-25, the $80 MicroKey-37 and the $180 MicroKey 61. The number on each model refers to the number of keyboard keys each hosts—for example, the MicroKey-25 has 25 keys. The keyboards can be connected to your tablet via the Apple Camera Connection Kit or a powered USB hub. Korg hasn't specified when the new keyboards will go on sale.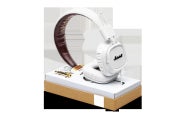 Marshall: This company has offered amps and other pro gear for years. Now it's catering to iOS lovers with new white versions of its FX series headphones. The $140 Major White FX headphones go over the ear; they include an inline remote and mic so that you can talk on the phone or control music volume and playback; the $80 Minor White FX is more similar to Apple's famous earbuds but comes with interchangeable earpads to offer you the best fit, so you don't lose your music while jogging.
Mottr: If you're serious about using your iPhone for high-end video and photography, this company has a new tool to check out. The $130 Galileo is a robotic mount that can remotely pan and tilt your iPhone when it's in image-capturing mode, creating smooth and professional-quality film instead of shaky amateur video. The device can be mounted on any tripod; it also acts as a charging station for your iPhone or iPod touch. The Galileo should be available in June.
Pioneer: Home theater lovers have a pair of new AirPlay-compatible receivers to choose from: The $450 VSX-42 is a 7.1-channel receiver that puts out 80 watts of power per channel; the $650, 7.2-channel VSX-60 packs a little more punch, putting out 90 watts of power per channel. Each can be operated from your iOS devices using one of Pioneer's free apps, and each includes an Internet-radio tuner and can play Pandora and SiriusXM.
Tangram: You know, I have one simple request. And that is to have iPhones with frickin' laser beams attached to their heads! Tangram makes that wish come true with its new Smart Dot laser pointer. Plug the device into your phone's headphone jack, fire up the free Smart Dot app, and you're ready to point and highlight during presentations. The Smart Dot should be available in the U.S. later this month; Tangram offered no information on pricing.
Yamaha: Another company with a long history of making great audio products, Yamaha has added to its iOS and AirPlay offerings. The $130 PDX-11 is a portable, two-way speaker system that can be carried wherever you want music, and it features a dock for plugging in your iPhone or iPod touch to play tunes. The PDX-11 can operate up to eight hours on six AA batteries, and it comes in black with one of four trim colors: black, blue, green, or white. On the higher end, the company also unveiled its AirPlay-enabled, 7.1-channel RX-V573 receiver and 5.1-channel RX-V473 receiver for $550 and $450, respectively.
iPhone 4S family
Price When Reviewed:
$599
iPad (third generation) family