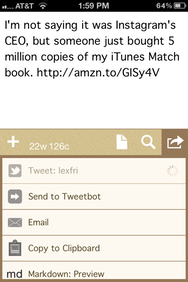 Drafts is a new iPhone app from developer Agile Tortoise, the company behind Terminology and Phraseology. The new app continues Agile Tortoise's trend of releasing apps focused on the written word. But where Phraseology is for longform writing, Drafts centers on composing shorter snippets of text.
Creating new notes in Drafts takes a single tap. As you compose a draft, Drafts counts your words and characters. Once you've jotted down a note, you can post them to Twitter, send them via email, copy them to the clipboard, or generate a Markdown preview. (You can also email or copy a rendered Markdown preview.)
Your old, timestamped drafts are all available to browse, search through, and share.
In some ways, Drafts behaves as a successor to the seemingly abandoned app Birdhouse. But where that app focused solely on drafting potential tweets to workshop and, eventually, post to Twitter, Drafts is more destination-neutral about the text you're composing; in my own early experience with the app, it's equally great for firing off quick, terse emails when you'd rather not be distracted by the lure of your inbox in the Mail app proper.
Drafts just remembers what you write. There's no Save button and no angst about organizing your notes—just one long list of all the notes you've created. The app offers far better font options than Notes, and superior themes, too.
The app costs $1 and requires iOS 5 or later. It's optimized for the iPhone (3GS or later) and iPod touch (third generation or later).