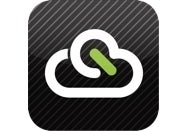 CloudOn has released version 2.0 of its iPad app. As before, the app lets you work on Microsoft Office documents stored on Dropbox from Apple's tablet. This latest update adds support for Box.net cloud storage, among other tweaks.
For many business users, a device that can't run Microsoft Office is a device they can't use. In the past, there have been a couple of ways to edit Office docs on the iPad. You could use one of the iOS office suites—such as iWork or QuickOffice ( )—that can handle Office-format documents. Or you could use an app like CloudOn— OnLive Desktop and newcomer nivio are similar—to connect from the iPad to a remote server running Office in the cloud.
These latter solutions have had two advantages over native iOS suites like iWork: First, they run the Windows version of Office, which for many businesses is still the standard. Secondly, they don't make you do the iTunes Dance, as some iOS office suites do—importing document files to your iPad via iTunes, then exporting them back to the Mac when you are done. Instead, with CloudOn and others, your files are stored in the cloud, where they're accessible directly from other devices.
That said, CloudOn and its ilk have had a couple of their own problems. For one thing, whenever you're running software remotely, it can feel awfully clunky. (CloudOn has, in my experience, felt the least clunky of these three apps.) But the other problem has been with the way some of them store your files: If you need to upload and download files to and from a vendor's specific Web server, that can be just as inconvenient as importing and exporting them via iTunes.
CloudOn's support for Dropbox has given it an edge over its competitors. It means the app fits better into existing Dropbox-based workflows. OnLive Desktop offers Dropbox access of a sort, but it isn't as smooth: You use its built-in browser to access your Dropbox account via the Web; that access isn't integrated into the app to the degree that it is in CloudOn. And nivio says it will offer Dropbox connectivity in a future iteration, but it isn't here yet.
Version 2.0 of the CloudOn app expands on those advantages by adding Box.net to your cloud-storage options. It also provides access to Adobe Reader as well as to the Office suite; there's a file viewer that can display PDF, PSD, and other graphics formats; and the app offers better integration with the iPad's email tools, so you can open and send Office-format attachments more easily.
The CloudOn app and service are both currently free, but the company does plan on introducing a tiered pricing plan at some point in the future.