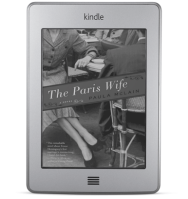 Amazon has issued a software upgrade for the Kindle Touch, which adds more languages and usability improvements, the company said on Wednesday.
With the arrival of version 5.1.0 of the software, the Kindle Touch has become a little more international. That will be helpful as the device is scheduled to go on sale across the globe on April 27.
Besides English, the e-reader's interface is now also available in German, French, Spanish, Italian, and Brazilian Portuguese, according to Amazon. Users can also tap on any word or highlight a section to instantly translate it into other languages, including Spanish and Japanese using Microsoft's Bing Translator, it said.
However, not all features are multilingual. English is the only language supported for the text-to-speech function, which has been extended to read aloud summaries of newspapers and magazine articles if the publisher makes them available.
Other new features include formatting and layout improvements that make Kindle books look better, and a landscape mode that allows users to switch between portrait and landscape orientation to read maps, graphs, and tables more easily, according to Amazon.
More sharing options have also been added; users can tell others what they are reading on Facebook or Twitter from anywhere within a book, it said.
Amazon will roll out the update over Wi-Fi in the coming weeks. However, impatient users can download it manually from the company's website.