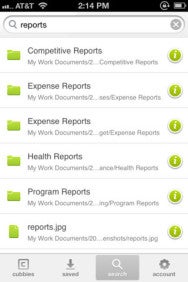 LogMeIn, which lets users remotely access their desktop computers, has launched a new collaborative cloud-storage service.
Cubby debuted Thursday as an offering still in beta testing. The company also launched a free iOS app for iPhone and iPad, so that users can access their stored documents, photos, and videos from mobile devices. The new service enters an arena where competitors such as Dropbox, OfficeDrop, and even Apple's iCloud have a head start.
Users will need Cubby's desktop application to save digital files to a cloud-based folder known as a "cubby"; they can then access those files from other devices, as well as share and sync them with project collaborators. Users can also share a cubby with collaborators on a read-only basis. And individual cubbies can be saved for offline access.
What will it cost? Tough to say: The company has not yet announced pricing information. Cubby does promise, however, that the first 5GB of storage is free.
Because it's in beta, Cubby is limiting the number of people daily who can start using the service; by Thursday morning it was sending emails to prospective users letting them know they'd get that access "when it's your turn."
The Cubby iOS app is compatible with any device running iOS 5.0 or later.