This week's roundup of apps will make you laugh! Make you cry! Help you organize your business receipts! The last one might be less dramatic, but it's actually quite helpful.
Already this week, Macworld brought you news of LogMeIn's new Cubby app for iOS, part of a Dropbox-style cloud-storage service. We also let you know about the upgrade to Adobe Reader, which now allows iOS users to sign and fill out documents. And we offered roundups of all the best apps to track stocks, conquer the world, and navigate the roads.
Other notable app updates this week included an upgrade to Yahoo's Livestand newsreading app, which added more content and now lets users import their RSS feeds. Other new and updated apps that caught our eye this week include: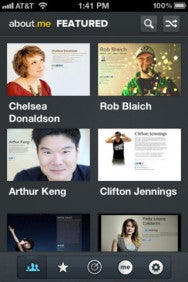 About.Me: AOL's About.Me site has been around for a while, serving as a one-stop shop for Web-savvy citizens to consolidate their online identity and point followers to their blogs, social networking accounts, and more. Now the company's free About.Me app makes it possible to run your page from an iPhone: The app can help you create an About.Me page, browse a directory of other users, search for and add other pages to your list of favorites, and share information via Twitter, Facebook, and email.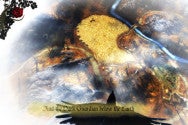 Crow: The bad news? Sunside's $5 Crow game for iPhone isn't related to the cult-favorite Brandon Lee movie. The good news? This still looks like a pretty cool game, in which you—as, well, a crow—explore terrain and engage in wing-to-wing combat with owls: Not so much Angry Birds as Heroic Birds With Great Graphics. ( This trailer gives a sense of the game's avian epic-ness.) This much is true: If you have a high score, you'll want to crow about it. And if you don't do well, you'll probably have to eat crow. Sorry, sorry. We'll stop our ravin' now.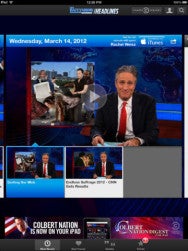 Daily Show Headlines: Finally. Yes, The Daily Show has had an iPad-friendly HTML5 site for awhile, but we've always found it a bit buggy and prone to freezing up. So we couldn't be happier about the free Daily Show Headlines app for iPhone and iPad. No, there aren't full episodes here—you can download those at iTunes—but there are plenty of clips from the last two weeks of shows, which can be shared via Facebook and Twitter. The app also features exclusive content from the show, and you can set personalized reminders to watch Jon Stewart and company while the show is actually airing.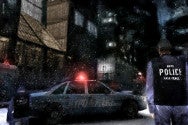 Max Payne Mobile: Looking for a taste of the old ultraviolence? Rockstar Games has finally launched the $3 Max Payne Mobile game for iPhone and iPad. If you haven't played this game in its original version, here's what you need to know: It's as if Clint Eastwood and Charles Bronson had met while they were doing their most famous roles in the 1970s, and had a very violent, angry baby. You get to shoot—a lot!—while you clear your name and avenge your family. And thanks to its availability on the iPhone, you can now do this in church. But you'll probably want to do that secretly.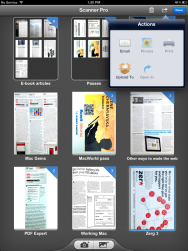 Scanner Pro: This $7 app has long let iPhone users take pictures of receipts and other documents, convert those pictures into PDFs, and then either share them or save them using Dropbox, Evernote, or Google Docs. The latest version of Scanner Pro does all that—and now it does it on the iPad too. While it is compatible with the iPad 2, the developers at Readdle are urging users to use it conjunction with the new iPad's better-quality camera. The developers didn't just include iPad-compatibility with this version; they also overhauled the user interface to make it easier to organize and edit the scanned documents.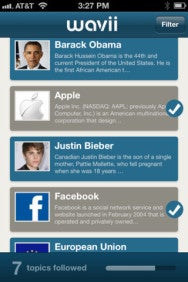 Wavii: We confess to being news junkies—and in this iPhone era, to being news-aggregator junkies. The free Wavii app for iPhone is the newest entrant in the arena. You must sign in with your Facebook account—and then choose ten topics from a list to follow. (If you don't like the initial list of topics, that's OK: You can edit it later, and search for topics that might not've popped up in the first go-round.) After that, you'll have a scrollable list of the latest headlines about those favorite topics. Most news aggregators these days are built first for the iPad—think Zite or Flipboard—but so far Wavii is made just for the iPhone.