[Editor's note: The MPAA and most media companies argue that you can't legally copy or convert commercial DVDs for any reason. We (and others) think that, if you own a DVD, you should be able to override its copy protection to make a backup copy or to convert its content for viewing on other devices. Currently, the law isn't entirely clear one way or the other. So our advice is: If you don't own it, don't do it. If you do own it, think before you rip.]
HandBrake is a great app for ripping your DVD collection as well as converting other files on your hard drive to, say, iOS-friendly formats. And to make things easier for most users, the software offers a number of built-in presets, including a bunch for Apple devices.
However, when new devices come out, it can take quite a while for new presets to appear that take advantage of the capabilities of said devices. The third-generation iPad and third-generation Apple TV, for example, now support 1080p video playback, but HandBrake's iPad and Apple TV presets are targeted to older models, and therefore won't produce the best quality video for your new devices.
Luckily, creating your own presets in HandBrake is easy if you know a few simple tricks. In this example, I'll show you how to create one for encoding at up to 1080p resolution. (Of course, your source material needs to be 1080p as well, so this preset won't make any difference for standard resolution DVDs. And HandBrake can't rip Blu-ray discs, although it can transcode those ripped using software such as MakeMKV.) But you can also use this method to create tweaked versions of built-in presets for whatever your specific needs are.
First, you'll need to choose a source file (HandBrake won't let you select or edit presets otherwise). You can choose pretty much any video file that HandBrake recognizes. Now click on Toggle Presets in HandBrake's toolbar to see the various built-in presets, then click the drop-down triangle next to Devices. Among the other iOS offerings, you should see an AppleTV 2 preset—select it to load the preset's settings. (If you don't see the preset, you may need to update your list by clicking the gear icon at the bottom of the presets pane, then choosing Update Built-in Presets.)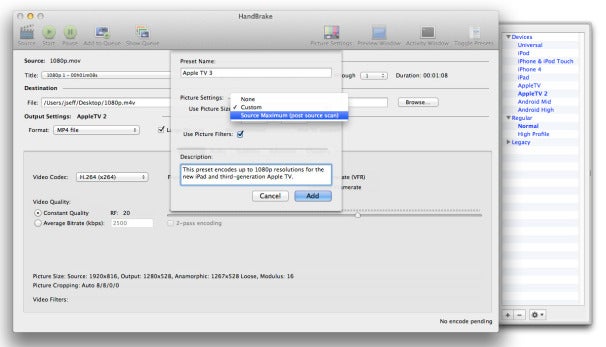 After selecting the preset, click the plus sign (+) at the bottom of the drawer to create a new preset, choose Source Maximum (Post Source Scan) from the Use Picture Size pop-up menu, give your preset a name and optional description, decide if you want the preset to use HandBrake's picture filters (for removing noise or interlacing, for example), and then click Add. You'll see your new preset at the bottom of the preset list, in black type as opposed to the blue built-in presets.
If you'd then like to set this as your default preset for all new video encoding, just select it in the drawer, click the gear icon, and choose Make Default from the pop-up menu. Your preset will now appear in bold.
(The reason you select the AppleTV 2 preset as the foundation for your preset is that HandBrake bases your custom preset on the settings of whichever one you select, and this preset creates the best default videos that work on newer Apple hardware.)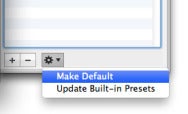 The beauty of your new preset is that it will create the highest resolution video files for your new Apple devices based on whatever video you feed it. So 1080p video stays at 1080p, but if you're converting a 720p video, the preset will recognize the resolution that HandBrake discovered when scanning the video file and output at 720p (rather than, say, attempting to upscale the video to 1080p).
If you want even more control of the default settings, you can make tweaks to the original preset before clicking the plus sign. For example, if you want to adjust the anamorphic settings—how HandBrake encodes a movie's display size along with instructions on how your player should stretch it out when you watch it—you can do that in the Picture Settings window. (The HandBrake site includes some detailed information about anamorphic settings and what they mean in its online user guide, although cautions that the info hasn't been updated for HandBrake 0.9.6, the current version of the software when this story was published.)
Or you might want to alter the video quality's constant quality settings (in the Video tab of the main HandBrake interface), or even change to a set average bit rate and 2-pass encoding. Note that neither subtitle nor selected audio languages settings are stored in presets, although the app's preferences have a Native Language pop-up that you can set, and which the program will attempt to always use.
Armed with this info, you can create one or more presets in HandBrake that fit your specific needs—beyond just missing Apple devices. And when you're done, you can select Presets -> Export from HandBrake's menu bar to save your presets so that you can use them on another Mac without having to recreate them from scratch.