Reader Andrew Lane is interested in the technique I used to capture video from my iPad's screen. He writes:
I just watched your video about configuring the kid-friendly iPad and noticed a couple of things. First, that you were able to capture movements on the iPad. Second, that the menu bar was blue. How did you do that and does the second have anything to do with the first?
You win this week's Most Observant Reader award. Congratulations!
It's true, I did capture motion from the iPad's screen, which is something that's been difficult to do in the past. And yes, that blue bar is the very broad hint about how it's done.
Fire up your iPad 2, third-generation iPad, or iPhone 4S, expose the multi-tasking bar, swipe the bar to the right until your see the device's play controls, and tap on the AirPlay icon. Select an AirPlay device such as an Apple TV and then switch the Mirroring switch On. Swipe down to show the Home screen and you'll see that the menu bar has turned blue. This indicates that you've switched on mirroring.
You now need an application that turns your Mac into an AirPlay device—one that your iPad can mirror its display to. The application I use is the $15 AirServer. Just install and launch AirServer on your Mac, ensure that your Mac and iOS device are on the same network, and navigate your way to the AirPlay control in your device's multi-tasking bar. When you tap on it you should see the name of the Mac on which AirServer is installed. Tap it and the Mirroring switch will appear. Turn that switch on and your device is mirrored to your Mac. You can choose to view it full-screen or within a window. As with other AirPlay devices, it plays both video as well as audio from supported apps.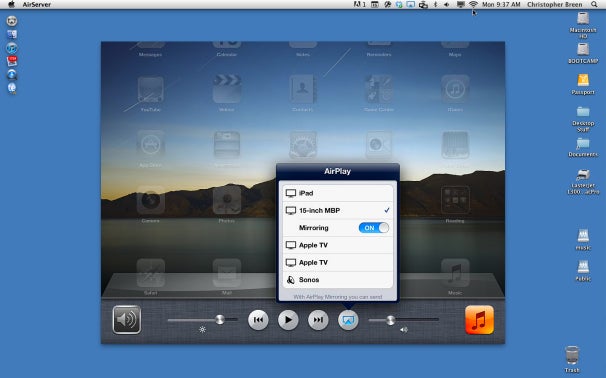 Once I had that set up I simply used a screen capture utility on the Mac to make my recording.
This is a tremendous step forward for people doing presentations and recording motion screen captures, but it's not perfect. The imperfection is that there's nothing that shows where you've tapped on the iOS device's screen, which makes it a little tough for those watching to follow along. In the case of the video you cited, I simply drew a yellow circle around objects I wanted to direct viewers' attention to, but a better solution would be a presentation mode on the device that projects a similar circle or dot that indicates screen taps. It's not an impossible task given that one of my favorite jailbreak apps, Ryan Petrich's DisplayOut, offers that very feature.