Does it seem like iBooks is asking you to sign in with your Apple ID unexpectedly? Are you tearing your hair out because you've used every single template in Apple's Cards app? Do you feel like you're losing your mind and your patience? Well, a pair of updates from Apple can help you with those first two problems—which may in turn deal with that third one.
Released on Monday, iBooks 2.1.1 fixes that issue with the Apple ID login dialog that pops up like a hockey-masked slasher in a horror movie. Just fire up iBooks after you've installed the update, and the problem should be all ironed out. For kicks, Apple has also thrown in some minor stability and performance improvements to make iBooks even iBookier.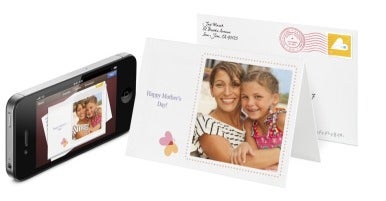 If you're less into reading sentiments than writing them, the latest update to Apple's Cards, also released on Monday, might hold the key to your heart. Top amongst the additions in Version 1.1 are templates for Mother's Day—less than a month away—which take advantage of Cards's typical letterpress stylings. New Get Well designs let you express your sympathies on 100-percent cotton paper, and the app has also rolled in additional options for birthdays and thank you cards, among others. Overall, there are now 34 templates to choose from in Cards, an increase from the 21 included at launch.
Nice as those extra templates are, Apple also spent some time improving the process of using Cards: Checking out once you've designed your card is now simpler, and verifying an address for the envelope is more accurate than previously.
iBooks is free; Cards is also free, though each card will cost you $3 to send anywhere in the U.S. or $5 internationally. (Both prices include postage).