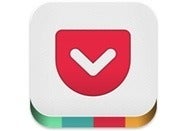 Perhaps the only way to ensure you read every story about one of those iOS apps for deferred reading of long-form Web content is to use one of those very apps to keep track of all the stories. The latest news comes not from Instapaper or Readability, but rather, the app formerly known as Read It Later: The developers of the app announced Tuesday that they've officially renamed it Pocket, eliminated its price tag, and released an update with new features, too.
Besides aesthetic improvements in the new version of Pocket—like a revamped, less-cluttered interface that's also better suited for Retina display devices—the update adds video and image filters. If you save a mix of content from the Web, the app can let you tap between your saved videos, images, and articles, so that you can now focus on whichever kind of content you wish to consume.
Other new features include options for better organizing your saved content, including bulk editing, favoriting, and tagging.
And yes, the app—which once cost $3 for its pro edition—is now free across all platforms.
The four-year-old Read It Later—sorry, make that Pocket—now has more than 4.5 million members using the app to save Web-based articles, photos, and videos; the company says that the app was the top paid news app for Android and the Kindle Fire, and consistently a "top" app for iOS as well. More than 200 million items have been saved for later reading with its app since 2007. Numerous iOS apps—including Flipboard, Twitter, Pulse, and Zite—integrate with Pocket for saving articles to read later.
Pocket works on all iOS devices and requires iOS 5 or later.