The following article is excerpted from Digital Arts.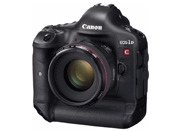 Canon on Monday debuted the EOS-1D C at the 2012 NAB Show in Las Vegas. The EOS-1D C is a digital SLR with a video focus that supports in-camera 4K (4096-by-2160 pixel resolution) video recording with 4:2:2 color sampling.
4K video is recorded using 8-bit Motion JPEG compression at 24p, and full HD (1920 by 1080) video capture is available at frame rates up to 1080/60p. The camera supports internal recording to CF cards at all resolutions up to and including 4K, offering enhanced mobility. Video at 2K or below can also be output to external recorders via an integrated HDMI terminal using an uncompressed YCbCr 4:2:2 signal.
The EOS-1D C features Canon Log Gamma, which facilitates the capture of high-quality video rich in exposure latitude and dynamic range. Aimed at video pros who want to retain the maximum amount of information without huge file sizes, Canon Log Gamma offers a dynamic range that Canon says is comparable to film, minimising shadow-detail loss and highlight-detail loss to provide greater grading freedom for colourists in post-production.
Based on the core specifications of the EOS-1D X, the EOS-1D C has an 18.1-megapixel full-frame CMOS sensor. Users can adjust image resolution to suit a subject or desired output. During 4K shooting pixels are cropped to an area equivalent to an APS-H sensor, preventing the need to resize or scale the image, ensuring maximum image quality. Additionally, a Super 35 mm crop in Full HD recording caters for cinematographers who typically work in the Super 35 mm field of view.
Canon says that the EOS-1D C's size enables users to achieve an extremely shallow depth of field with beautiful background blur, and sensitivity up to ISO 25,600 provides excellent quality and reduced noise in low-light situations.
The EOS-1D C ships with an exclusive software package, including a suite that allows 4K/Motion JPEG and Full HD/60p video shot on the camera to be output on an external monitor. This requires the use of a PC equipped with an SDI port. It also enables video shot with Canon Log Gamma to be output on a monitor with standard video gamma applied.
As part of the EOS system, the EOS-1D C is compatible with more than 60 EF lenses, all of which offer high resolutions to support 4K image capture.
The EOS-1D C will be available later this year, priced at $15,000.
Note: When you purchase something after clicking links in our articles, we may earn a small commission. Read our affiliate link policy for more details.