There's nothing an iPhone or iPad can't do. This week's list of new iOS accessories lets you use your device as a ring, as a necklace, as part of a couch, or with a beer cooler. Sometimes you can even use it to play music or type your latest novella.
Braven: This company has introduced three new portable Bluetooth speakers to play music wirelessly from your iOS device. The Braven 600, 625, and 650 cost $150, $180, and $190, respectively, and offer a respective 14, 16, and 20 hours of battery life for your party. (The speakers also offer speakerphone capability, if you're using them with your iPhone.) Each can be daisy-chained for bigger sound, and each also offers a USB port for charging your iPhone or iPad. The Braven speakers go on sale in June.
CSL: Don't you wish your sofa was iOS-compatible? Well, now you get your wish. The Sound Sofa is a couch that includes three built-in speakers for 2.1 stereo sound, as well as a charging dock for your iPhone which also lets you play your portable's audio straight through the couch. The Sound Sofa is also touted as having great lumbar support, although chances are you'll be having to much fun grooving to sit properly. The UK-sold Sound Sofa is available in both right- and left-hand facing versions starting at £999.
Feinger: Probably the best way to think of The Feinger ($15) is that it turns your iPhone into bling. Put the included mount on your phone and a small fabric band on your finger, and suddenly you can wear your iPhone as the most-oversized ring possible. The phone can also be worn on the inside of your hand, ensuring that you can hold on to your iOS device without risk of dropping. Other attachments let you hang your phone around your neck on a lanyard. We've always thought the iPhone is a real jewel.
Home Bar Accessories: This feels like the perfect marriage of beer commercial and iOS love: the $50 Super Jam Boom Box Music Cooler features speakers for listening to music from your iOS device, but it's also an insulated cooler that can hold up to 18 cans of your "favorite drink." The Super Jam Boom Box Music Cooler runs on four AAA batteries—for the speakers, not for keeping your beverages cold.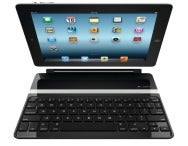 Logitech: Not content with offering a couple of the best iPad keyboards on the market, Logitech has announced the $100 Ultrathin Keyboard Cover for second- and third-generation iPads. Halfway between folio-style and thin-shell keyboard cases, the Ultrathin Keyboard Cover attaches to the iPad, Smart Cover-like, using a magnetic hinge to protect the iPad's screen in transit. (In this mode, the keyboard supports the iPad's magnetic sleep/wake feature.) When you're ready to type, you detach your iPad from the hinge and prop it up in the keyboard's slot. The Bluetooth keyboard's aluminum shell makes it thinner (10mm) and lighter (327g) than most iPad keyboards. The Ultrathin Keyboard Cover ships later this month.
Photojojo: Our friends at TUAW noted this week that Photojojo has offered up three new accessories for the iPhone market. The $40 iPhone Boom Mic lets users capture high-quality audio; the $40 iPhone Shutter Grip plugs into your phone and gives you the physical feel of using an actual camera when you take photos; and the $40 i Phone Shutter Remote lets you trigger the iPhone's shutter release from up to 30 feet away.
Soundfreaq: Yet another portable Bluetooth speaker, the $99 Sound Kick offers up to seven hours of battery life while playing tunes wirelessly from your iPhone or iPad; like the Braven models, it also can charge USB devices. If you don't want to play wirelessly, just plug in your iPhone with a standard audio cable and you're good to go. But if you do use Bluetooth, you'll want the free Soundfreaq Remote app to control the setlist.
USBFever: Need access to your iPad while on the road? The $55 Bolt Mount for iPad is a goose-neck mount that attaches to a bolt on your car's passenger seat, allowing your tablet to be rotated 360 degrees—in either portrait or landscape orientation—and be locked into position. The mount fits all three generations of iPad, and the company says it takes only three minutes to install.
[Macworld editor Dan Frakes contributed to this article.]
iPad (third generation) family
iPhone 4S family
Price When Reviewed:
$599